Nostril Piercing
Nostril Piercing? You're probably wondering what it's like to live with a nostril piercing. The look you go for can range from exotic to charming to outrageous! While you're considering your options, take some time to mull over the reality of this body enhancement.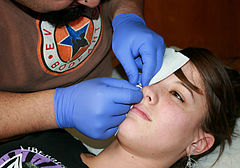 First, there should be no question of having it done by some inexperienced salesperson who's waving a piercing gun at a kiosk in the center of a mall! Your nose piercing should be done by a piercing professional at a studio or boutique that specializes in this technique-preferably with a 16-18 gauge needle. 

Here's why you need to run from anyone with a piercing gun:
Guns really cannot be properly sterilized, and even the tiniest droplets of blood from another person can infect you with HIV, hepatitis, MRSA, or other germs.


They punch through the skin painfully, and scarring is more likely to result. Scars can turn into thick purple ridges of skin alongside the piercing site that will never go away. Or you can end up with a piercing that is sunken into the skin. Just picture your jewelry peeking up from that hole-not a pretty picture!


Piercing guns place shorter pieces of jewelry into the hole that they make, and the jewelry is more likely to sink into the piercing. If the jewelry becomes lodged in the piercing site, you have yet another possibility of scarring and infection. A piece of jewelry that is too small can possibly interfere with the blood supply to the area.


Basically, a nose piercing gun puts an earring into your nose. The earring normally fastens to your ear because there's a backing that holds it in place. The backing doesn't work well in nostril piercings, and if you remove the backing you're likely to lose your jewelry and have the piercing close up.
Next, choose the jewelry that you're going to display in your piercing carefully, before the piercing is done: You won't be able to change it for quite a while. A nostril piercing can take four to six months to heal completely. Leaving your jewelry in place is the only way to guarantee that your piercing will heal cleanly and completely!
You can choose from several types of nostril piercing jewelry:
There are plain, full-circle rings to insert-simple yet elegant.


Some nose rings offer a stud-like gem on one end, and the other end is curled into a ring-this is actually called a nose screw.


Captive bead rings display a bead or gem on a semi-circle; the bead is held in place by the tension of the circle.


Nose bones and studs are tiny bars, generally with a decorative gem on one end and a bead that screws on the other end to keep it from falling out.
Your next concern should be finding a quality jeweler to provide your first piece of jewelry. Because you'll be displaying this one item for so long, consider buying a nostril piercing made from 22k gold. It is gold in its purest form-almost 92% pure-and nothing less than 22k or possibly 18k gold should be used in a healing piercing. A piece of jewelry made from 22k gold not only protects your piercing as it heals, it is also the most comfortable type of metal to wear in your tender skin.
Surgical-grade stainless steel is also very good for piercings. However, jewelry designs do not offer the same beauty as pure gold, and if you aren't totally happy with your selection, then you will not manage to leave it in without fiddling with it for six months!
Gold-plated jewelry should not be used. During the healing process, the gold will gradually wear thin, and your body fluids will interact with the metal underneath.
Silver should never be used for the same basic reason-your body fluids will cause the silver to oxidize, and you can end up with a permanent dark stain in your skin.
Metal alloys are also poor choices, because your body is more likely to be allergic to them. The skin sensitivity that you develop will drive you to remove your jewelry before complete healing.
If you remove your nose jewelry too soon, nostril piercings can close up very quickly. In extreme cases, they have been known to close up in less than a quarter hour! Your nostrils are lined with a protective moist tissue called the mucus membrane. If the mucus membrane has been pierced by a sharp object, the body's natural defense mechanism is to shut down that hole. You might not be able to pierce the same area again for as long as a year.
Last, you must learn proper aftercare and cleansing techniques. Always clean your nostril piercing site carefully, and never touch it unless you've washed your hands first! Use cotton swabs or balls and warm soaks made from water and sea salt (one-fourth teaspoon of salt per six ounces of water). Pat it dry with paper towels or napkins, because they carry fewer germs than towels.
Nose Piercing Common Question and Answers
What are the pros and cons of nose piercings?
How do you decide which side to get your nose pierced?
How much do nose piercings hurt for someone with a low to medium pain tolerance?
What's the biggest disadvantage of having a nose piercing?
Is it okay to put numbing cream inside my nose before a nose piercing?
How much does it cost to get your nose pierced?
I have very low pain tolerance. Will a nose piercing really hurt? And once you get a nose piercing how do you blow your nose?
On a scale of 1 to 10, how painful is nose piercing?
Is it ok to use gun shot for nose piercing?
Is it okay if I have my nose pierced at the right side?
How do you get a nose piercing without it hurting?
How do people with nose piercings blow their nose?
How much do nostril piercings hurt when you get them?
What does a nose piercing on the right side indicate?
What does nose piercing feel like?
Why do college age girls tend to get nose rings?
What does it mean if a woman wears a nose ring?
Do boys like girls who wear nose rings?
Does nose ring look good on girls?
Why do women wear bangles, ear rings, nose rings, and have lengthy hair (most of them)?
Why do cows have nose rings on them?
What is the psychology behind a woman wearing a bull ring between the nasal septum of her nose?
What is your first impression of people who wear nose rings or nose piercings?
Why are nose rings so popular in India?
Why do most South Indians wear nose rings on the right side?
Are nose rings cute?
What do you think about nose rings?
Is getting nose stud better than getting a nose ring?
What is the significance of wearing a nose pin for Indian women?
What is the significance of a nose piercing in an Indian girl's life? Do Indian parents force their daughter to get her nose pierced, or is it optional?
To the top of Nostril Piercing
To other pages;
Nose Piercings Frequently Asked Questions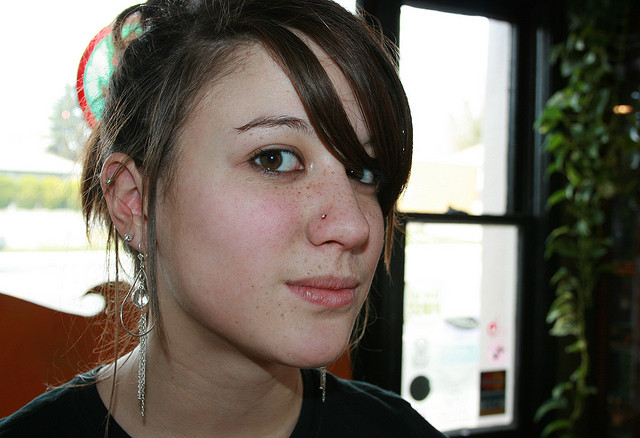 So I was 12 when I chose to proceed with the custom of getting my nose piercing. It runs in the family for the women to have it. So 3 years passed and one day I was siphoned and prepared to do it! 
In transit there I was stating how I will take it like a champ. We arrived at the spot and there was a woman named Linda, she planned to play out the puncturing for me. 
She gave me the marker and requested that I dab where I needed it. I found the ideal spot on my nose. 
Before she even snatched the clasps I separated crying. Like crying and everything! 
I asked my mother to not get it yet then my sweetheart Sam, strolled in and I needed to get myself. He inquired as to whether all was well and I said yes. I realized I needed to feel free to overcome with this. 
I sat in the seat and revealed to Linda I was prepared despite the fact that I wasn't. She put the clasp on my nose and got the needle and pierced my nose. I hollered out ouch and a major tear fell. 
My mother thought it was amusing so she was simply giggling. It was excruciating for me like on a size of 1-10 I was around a 8 for me. It was much something beyond a little squeeze. 
So after my nose was sore it remained harsh for around multi day. Linda gave me a booklet that discloses how to help it mend, how to clean and take of the puncturing. 
I returned home and in transit my nose began pounding other than that it was fine. The torment went on for around 10 seconds then it was no more. 
The touchiness felt like how it would feel on the off chance that you hit your nose.
Comments
What you think?
What Other Visitors Have Said
Click below to see contributions from other visitors to this page...

My mom pierced my nose

I am a boy.My mom pierced my left nosetrill at 5years old because that time some female friend pierced their nose and I said to my mom to pierced my nose …
Sponsored Pages
Subscribe to our nose-piercings newsletter to stay up-to-date with the latest news, trends and articles published on this site.