Siamese Cat: Might not be the best cat for everyone!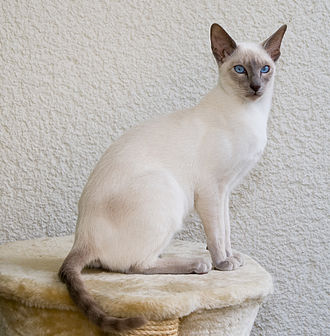 Lilac-point Siamese (Oriental)
Siamese cats have often been thought to be good luck or a sign of royalty.  In fact, there are many individuals that will tell you that these cats were once seen around the temples in Thailand and they would keep away evil spirits.  They really are magnificent to look at and they are beautiful creatures.  However, you should learn a little bit more about them if you are considering purchasing one.  After all, the more you know about them, the easier it will be to determine if this is the right cat for you or not.  
"The Siamese cat (Thai: แมวไทย, Maew Thai; แมวสยาม, Maew Sayam) is one of the first distinctly recognized breeds of Asian cat. Derived from the Wichianmat landrace, one of several varieties of cat native to Thailand (formerly known as Siam), the original Siamese became one of the most popular breeds in Europe and North America in the 19th century." Reference Wikipedia

Two types of Siamese cats

Many people do not realize that there are actually two types of Siamese cats out there.  One type of these cats will have an apple head.  This is the more traditional of the two cats and they seem to have a body that is more compact.  Now, if you are interested in a more modern Siamese cat then you should know that you will be able to get one that has a more triangular shaped head and the body will seem to be more slender and sleek.  It might be a good idea to look at a few of them in person or to do some research online in order to determine which one you like more. 
If you have never seen one of these cats before then it might also interest you to learn a little bit about the different traits or characteristics that these cats have.  Some people are interested by the fact that these cats really are the most popular breed when it comes to short haired cats.  These cats will have blue eyes and their fur is going to get darker at the points of the cat rather than on the body.  In fact, you will see that the fur will be lighter around the neck and on the body.  But, as you get towards the face, paws and tail of the cat it will become much darker.  
Are you concerned about the personality of the cat? If you are not then you should be.  It is very important for you to know what you are getting into if you have a family that will be around your cat.  These cats are thought to be very outgoing and they are also thought to be very temperamental.  Therefore, they might not be the best cats for you to own if you have children.  I
Are you interested in finding a cat that will be quiet?  Are you thinking yes? Well, then you certainly do not want one of these cats. Individuals that have had these types of cats in the past, or that even have them now, will tell you that these cats are really vocal and they tend to talk a lot by using their vocals.  This is how they communicate with humans and they do tend to talk a lot.  
Finally, most people will want to make sure that they have a cat that they are not going to need to take a great deal of time caring for.  These cats will be great when it comes to that aspect.  Some people will make the decision to give their cat a bath every now and then.  While this is certainly possible, it is not something that you will need to do at all if you do not want to.  
Siamese cats are beautiful but they might not be the best cat for everyone.  Learning more about them can help you decide.  
References;
The International Cat Association

Sponsored Pages
Subscribe to our nose-piercings newsletter to stay up-to-date with the latest news, trends and articles published on this site.