Anti Virus Face Mask: Mask that kills Bacteria and Virus!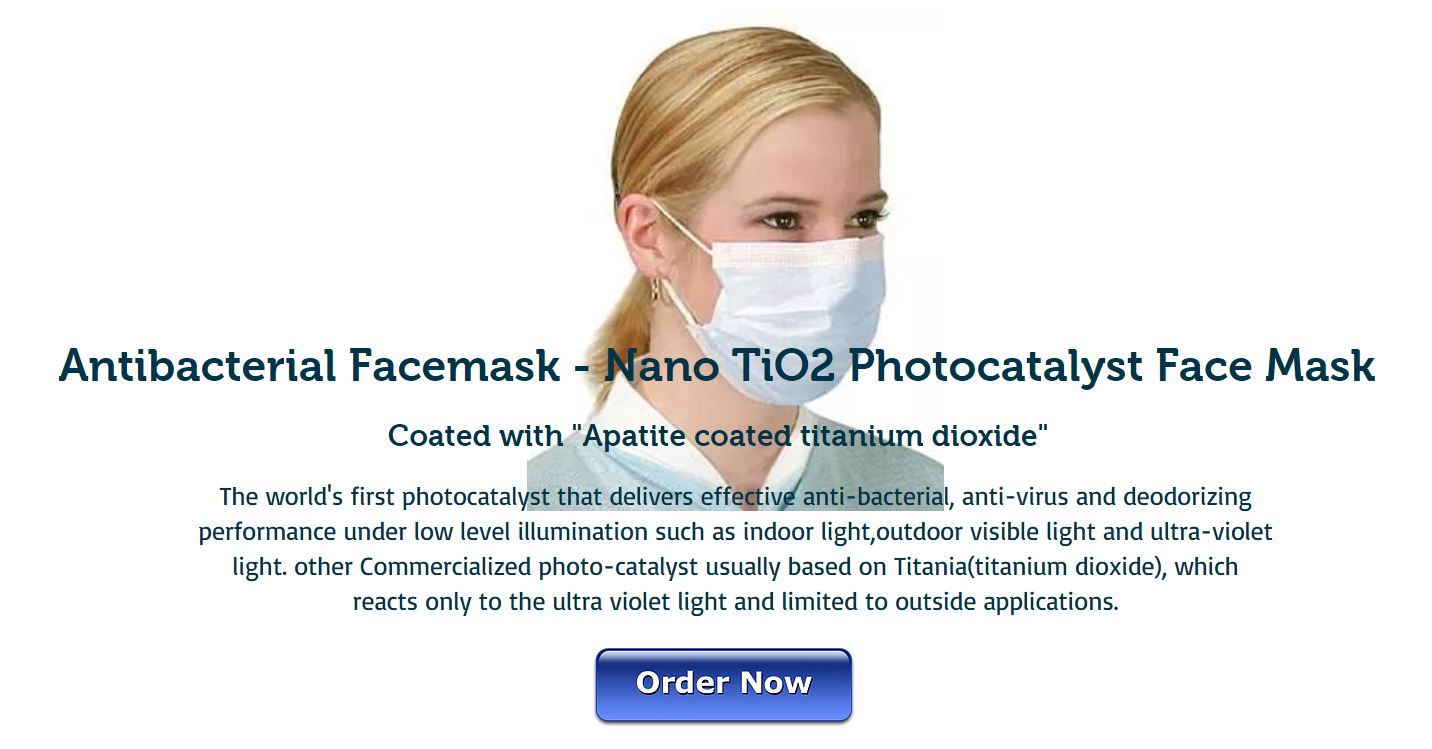 World's First Visible Light Photocatalyst Mask!

Anti Virus Face Mask - Nano TiO2 Photocatalyst Face Mask
Coated with "Apatite coated titanium dioxide"
The world's first photocatalyst that delivers effective anti-bacterial, anti-virus and deodorizing performance under low level illumination such as indoor light, outdoor visible light and ultra-violet light. other Commercialized photo-catalyst usually based on Titania(titanium dioxide), which reacts only to the ultra violet light and limited to outside applications.
What is Photocatalyst?

Photosynthesis

Chlorophyll of plants is a type of photocatalyst. chlorophyll captures sunlight to turn water and carbon dioxide into oxygen and glucose.

Photocatalysis

Photocatalysis creates a strong oxidation agent to breakdown any organic matter to carbon dioxide and water in the presence of a photocatalyst, plus the UV rays from either the sun or an artificial light source (such as fluorescent lights).

Why Nano Coated ApatiteTiO2 Mask?

Numerous materials are under examination; however, none appear to match the efficiency of Nano Apartite Titaniumdioxide (TiO2).

Research on titanium dioxide and its derivatives has dominated over other materials and nano apartite titanium dioxide is the only photocatalyst that has seen industrial application.

Nano Apartite titanium dioxide is the only photocatalyst that works both in UV light and normal room lights.
Anti Virus Face Mask: 99% Antibacterial & Sterilization Facemasks
World's first photocatalyst effective in ultra voilet (UV) radiation and room light.

Analysis & Tests
Anti-bacteria Testing on Mask Fabric

(by Japan Textile Inspection Association)Test done on masks treated with apatite coated titanium dioxide under specific conditions.

Virus Analysis Data

(by Kagoshima University of Agriculture Department of Veterinary)

1% of Apatite coated titanum dioxide mixed with virus solution and measured of virus suppression

99% suppression recorded
Anti-Bacterial Effect

Photocatalyst does not only kill bacteria cells, but also decompose the cell itself. The titanium dioxide photocatalyst is more effective than any other antibacterial agent. Disinfection by titanium oxide is three times stronger than chlorine, and 1.5 times stronger than ozone.

Air Purifying Effect

The photocatalytic reactivity of titanium oxides can be applied for the reduction or elimination of polluted compounds in air such as NOx, cigarette smoke, volatile compounds arising from various construction materials, to protect lamp-houses and walls in tunneling, as well as to prevent white tents from becoming sooty and dark.

Water Purification Effect

This technology is very effective at removing further hazardous organic compounds (TOCs) and at killing a variety of bacteria and some viruses in the secondary wastewater treatment. Pilot projects demonstrated that photocatalytic detoxification systems could effectively kill fecal coli form bacteria in secondary waste water treatment.

Deodorizing Effect

Air purifier with Ti02 can prevent smoke and soil, pollen, bacteria, virus and harmful gas as well as seize the free bacteria in the air by filtering percentage of 99.9% with the help of the highly oxidizing effect of photocatalyst (Ti02).
Contact us for further details about Anti Virus Face Mask.
11 Deadly Airborne Diseases You Should Know About
Airborne diseases are the most common type of disease found in every part of the world. These diseases are transmitted through pathogens, which are small particles. The particles can disperse through sneezing, coughing or even regular activities like talking, laughing etc. When individuals contact these by touching, inhaling or other forms, they become infected.
While these diseases are very common, there are some simple and basic methods which could be used to avoid their mass prevention. Steps like washing your hands, covering the mouth and nose while sneezing, coughing etc. can be very helpful in reducing extensive spread of these diseases.
This infographic introduces you to the 11 most deadly airborne diseases. You will learn about the effects, symptoms of each disease along with their spreading pattern and effective prevention methods.
Courtesy of: Antibacteria Facemask
To the top of this page Anti Virus Face Mask.

Sponsored Pages
Subscribe to our nose-piercings newsletter to stay up-to-date with the latest news, trends and articles published on this site.