---
---
It is time for Nose Piercings Humor!
Too much worrying about getting your nose piercings? Well its time to amuse yourself with some funny nose piercings pictures and comedies.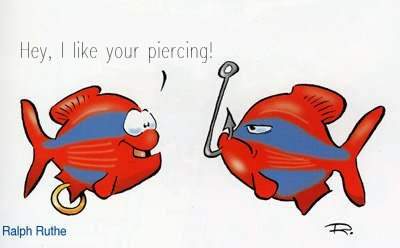 This one of the best joke about piercing! Just love to see the face expression of the left fish.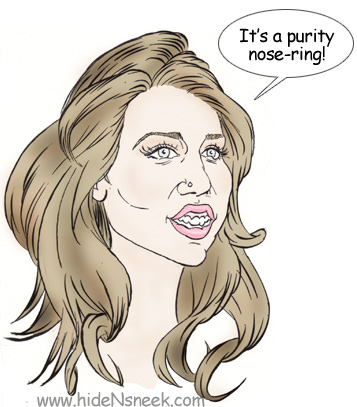 Miley Cyrus has pierced her nose. Miley posted a picture of herself with the nose-stud on her Twitter page. The nose ring is sure to pierce the hearts of many parents; afraid their daughters will follow in Miley's footsteps.
Miley recently dumped her 20 year old boyfriend and has "reconnected" with Nick Jonas of the Jonas Brothers. So, have no fear parents - it might be a purity nose-ring?

Miley's once mulleted and famous father confirmed the piercing on Larry King, source 

He tells talk show host Larry King, "Her daddy took her (to the piercing studio). She said, 'Daddy, would you take me to get my nose pierced?' I said, 'Did you ask your momma?' And she said, 'Yes. Mama said I could do it if you would take me.' I thought kind of it was one of those bizarre moments. But honestly, my life and what we're going through and the things that we've been through, it's like being in The Twilight Zone. So I just kind of roll with the punches." source 
i pick my nose a lot because i have allergies. deal with it.
once on the 7 bus coming back to my dorm from the mall, i pushed the bar from my nose ring into my nostril. sometimes it swings out. my friend shook her head and said, "you only got your nose pierced so you can pick it in public." b.u.s.t.e.d.

OK, I got it! You have a nice nose piercing there. :)


Click here to get more funny stuff from All Funny Pictures!


He's going to have problems at airport metal detectors.

Comments
What you think?
What Other Visitors Have Said
Click below to see contributions from other visitors to this page...

Comments
What you think?
What Other Visitors Have Said
Click below to see contributions from other visitors to this page...

---
Keep this website running!
All of the contents on this site have been made in my own spare time. I also pay for the domain name nose-piercings.com out of my own pocket and write and maintain the documentation and web pages on this site. All of this takes up a considerable amount of my time.
I provide all of this for free, because at the end of the day, it's nice to think that there are people out there who find this stuff useful. It is always reassuring to receive emails from people to thank me for my work, and it is mainly this which keeps me going. However, the fact is that all of the stuff here costs a significant amount of my spare time and a little bit of my own money, so any donations (no matter how small) are very much appreciated.
You can make a donation with your credit card via secure PayPal. You can choose any amount and pay in any currency supported by PayPal. Simply click on the icon below to donate!
---
A tree is not a project for us; a tree is our life.
Join Us at Facebook!