Nose Ring Piercing and You
It's exciting that you've decided to get a nose ring piercing.  Now the fun part is choosing what kind!
Most people get their nose pierced through the curve alongside one nostril.  Others opt for the septum ring, which pierces the tissue that separates the two nostrils.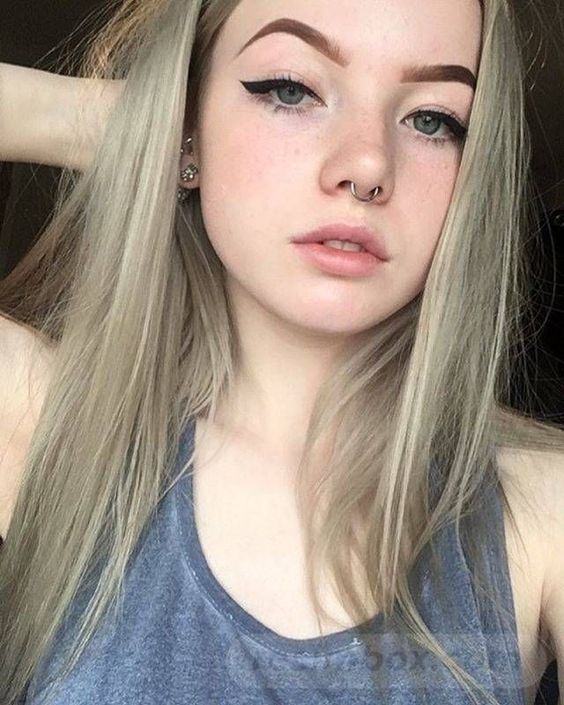 Here Are Some Options
A captive bead nose ring piercing has one bead or jewel in the middle. It's a ring that's not quite closed; there is just enough of an opening for a bead to pop in to complete the circle. The tension of the ring holds the bead in place. These beautiful nose rings are very delicate, but you usually need a special tool to open and close them without bending the ring itself. And because this nose ring piercing is such tiny work, you can't count on being able to change it yourself; you'll probably need help. The great advantage of a captive bead nose ring piercing is its beauty: You can find beads that are simply small, dark colored beads. Others are made of the same metal as the ring, but with a contrasting shape. Some actually look like jewels and are available in colors. The rings themselves might be made from nickel, surgical steel, silver, gold, hematite, or other metals. You can even find neon or glow-in-the-dark acrylic nose rings!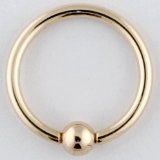 One 14K Gold Captive Bead Ring: 18g 1/4", 14K Gold Bead: 3mm
Seamless or continuous nose ring piercings generally are thinner and they are undecorated. One part of the circle overlaps and fits into the rest of the ring. You put this on or take it off by pulling the ring apart slightly, slip the overlapping piece into the slender, inner portion, and push it together. Just like the captive bead rings, you can get these made from just about any metal. If your piercing is very tiny, the minuscule bump where the ring clips into itself can irritate your skin.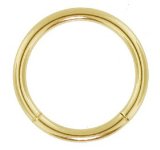 14 Gauge 1/2" - Solid 14kt Yellow Gold Seamless Segment Ring
Yet another kind of nose ring piercing is the curved barbell, which is actually not quite a ring-but that's what it looks like when you're wearing it. Some come with the end decorations fixed in place, and with others you can change the beads or jewels. And, again, they come in stainless steel, titanium, silver, and several kinds of gold. Of the captive bead ring, the seamless ring, and the curved barbell, this last type is the easiest to change, by far!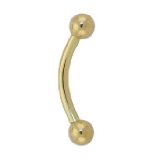 Solid 14KT Yellow GOLD 16ga CURVED BARBELL Ring - 3/8" LENGTH 
An alternative nose ring piercing is through the nasal septum, which you can decorate with a septum retainer. One of the reasons why some people hesitate is that no matter how expert your piercing professional is, it might not be possible to get a septum piercing that is exactly even. Your nasal tissue is likely to be slightly off center or heavier on one side than the other. Once you've gotten beyond that caveat, however, there are a huge number of ornamental and plain septum retainers to choose from.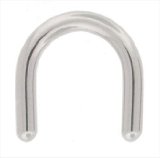 Septum Piercing Retainers 10 Gauge
Nose studs are an nose ring piercing option. As body piercing has snowballed in popularity in recent years, people have opted for the nose stud piercing because they think it's the easiest piece to wear. However, it holds the disadvantage of accumulating more nasty crusty stuff than other nose jewelry. Most people who get their noses pierced thinking they will wear a stud make the mistake of getting the piercing done with an earring gun, which is not intended for stiffer nasal cartilage and tends to rip it more. The studs slip in and out easily and come in many bejeweled options, but they don't work as well as the rings.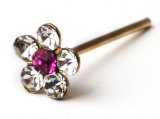 9kt Gold Nose Studs Piercing Jewelry - CZ Flower - 22g
Nose screws offer an interesting alternative. One end has threads on it very similar to what you'd see on a screw, and it can be-well, screwed-very gently into the side of your nostril. The other end generally curves up and around, offering the adornment of your choice-a silver arrow, a heart-shaped gem, whatever. They are inserted and removed very easily. The nose nail, on the other hand, has the same disadvantages as the stud.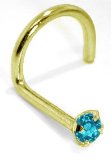 1.5mm Blue Zircon (December) - Solid 14KT Yellow Gold Nose Twist / Screw
Indian nose screws are crafted especially for the larger nose rings. Often the rings for cultural or religious expression display a more complex design, and Indian nose jewelry is ideal for this type.

You can also use one if you're wearing a Nose Ring with an expensive stone, such as a diamond nose ring —it'll prevent the ring from falling off because of its own weight or in case you sneeze! The lock is finely crafted with a cap design to prevent it from hurting your nose.
Plan Your Nose Ring Piercing
If you're serious about getting your nose pierced, you've got to make your jewelry type ahead of time.  You've got to select a piercing professional carefully and find out what your aftercare will entail.  This is NOT something you should do on a whim at the mall!

You've got to be careful for two reasons.  First, you want a professionally accomplished piercing that will heal well and look good.  If you make this decision impulsively, your poor planning will result in problems later.
But equally important, you've got to choose a professional who will use sterile technique during the piercing and give you sound aftercare advice.  Why choose someone who runs a suboptimal business?  You're not going to care about saving money if you find out you've contracted hepatitis, HIV, MRSA, or other diseases that are passed through body fluids.
The End Result
As you plan your nose ring piercing event, make careful choices. Seek a jewelry professional who can offer years of experience in creating good quality gold jewelry.  You will enjoy the look and feel of 22k gold, and we offer many nose rings made of gold through this web site.
We offer the benefit of true craftsmen who create unique Indian designs not easily found in the Western marketplace.  Your piercing says who you are, and we know you are worth gold. 
To the top of this article about Nose Ring Piercing

Comments
What you think?
What Other Visitors Have Said
Click below to see contributions from other visitors to this page...

nostril piercing is the most common Not rated yet
Nose piercing is the piercing of the skin or cartilage which forms any part of the nose, normally for the purpose of wearing jewelry, called a nose-jewel. …
Sponsored Pages
Subscribe to our nose-piercings newsletter to stay up-to-date with the latest news, trends and articles published on this site.