Nose Piercing History Trough the Ages
Want to know more about nose piercing history? Sit back and let us tell you about the oldest nose piercings and the first types of nose rings, used by both men and women, gleaned from legends in ancient manuscripts such as the Vedic Scripts.
The texts of Vedas date back to approximately 1500 to 500 BC.   Many scholars believe the earliest texts date back 6000 years! 
Keep in mind, if you don't already know, that in those days the Vedic scripts were not written down on paper; they were passed along from generation to generation in flowering, mnemonic chants.  Scholars have located the earliest written scripts, written on bark, dating as far back as the eleventh century.  They tell us that applied knowledge -Upavedas- for medicinal remedies were addressed in the Ayurveda, which was associated with the Rigveda canons of the Vedas traditions.
From these beautiful chants, we know that the learned men of those olden days advocated the piercing of a woman's nostril to alleviate the painful symptoms of womanhood, such as menstrual cramps and even childbirth pains.  Medicine men knew that nerve bundles running in the skin of the left nostril could impact the organs of the female reproductive system.
Medieval Nose Piercing History
Sixteenth century Hindu legends also related nose piercing to the ancient legends of Parvathi, the daughter of the Himalayas and the mother goddess of marriage.  And, besides any worshipful or medicinal purposes for nose piercing, it was simply looked upon as a mark of great beauty and an indicator of elevated social standing.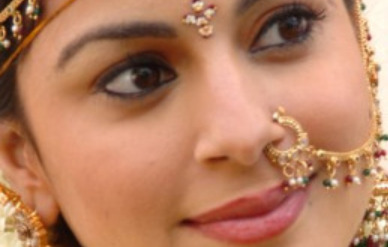 In the days of ancient India, a young bride would have her nose pierced as her wedding day approached.  The nose jewelry would be fastened by a chain to her hair, and it would be removed by her groom on their wedding night. 

Nose Piercing History of Other Cultures
Nose piercing spread quickly among Arab and Egyptian cultures. Men took to it because it accentuated their manliness and power.

In fact, there came to be a certain fascination with the size of the stud fastened onto a particularly large nose!
Body piercings of all types became increasingly popular, even spreading throughout all corners of the Roman Empire.
Contemporary Nose Piercing History
As centuries passed, the culture and rituals of nose piercing subsided to remain mostly an Eastern practice.  And then in the 1960s, teenagers who were fans of the Beatles paid attention when the Fab Four traveled to India and immersed themselves in Eastern meditations and pastimes. 

A rebellious subculture of the times -the hippies- picked up on this fascinating, ancient practice.  Many who could afford it traveled to India's western coastline, specifically to the Goa region.  They loved the look of the pierced nostril worn with a chain to the ear, and they loved the idea as yet one more way to demonstrate their individuality and nonconformity.  
Nose piercing has since remained on the social radar of all types of young people, from the hippies of the Seventies, to the Punk rockers of the Eighties, to the Goths of the Nineties all the way through to today.  For many it symbolizes their rejection of traditional ideals and values. 
And for many others, it has remained a cultural expression, an accentuation of beauty.  Throughout the decades there have been those who have been pierced conservatively, displaying small gems and hiding them with invisible posts when out in public but enjoying them in small social circles. 
Conclusions about Nose Piercing History
Today's Indian nose piercings are created so that you can express either simple or complex designs.  You can choose jewelry with single or multiple gemstones.  There are craftsmen who have spent years melding elegance of design with comfort and safety for your skin. 
And it's so important to have your nose pierced by a knowledgeable piercing professional.  An expert of this type has practiced the technique so that he knows, just by touching your skin, whether there is a nerve or nerve bundle passing through a given portion of the nose.  You can honor the ancient traditions of the Ayurveda and also display your individuality with the right piercing. 
Apart from nose piercing history, on other pages of this website, we will introduce you to the screws-type fixtures that we recommend.  Its very concept and design will ensure that your priceless gemstones remain placed firmly on your nose, even for larger, penny-sized nose rings. 
Many people prefer to wear the larger, more complex rings for religious or cultural expression, and there is nothing better to fasten them than the Indian nose screw. 
You can rest assured that your precious outfit, like your diamond nose jewelry, will remain safe, unable to fall loose from its own weight or in case you happen to sneeze!  This type of screw is crafted with careful, quality workmanship, utilizing a cap design so that it cannot hurt the soft tissues of your nose. 
And we utilize the most skilled goldsmiths to create unique Indian designs from 22k gold-the purest available-that you will not find throughout most Western markets.  We invite you to browse through our selections! 
Have A Great Story About This Topic?
Do you have a great story about this? Share it!
What Other Visitors Have Said
Click below to see contributions from other visitors to this page...

To the top of this article about Nose Piercing History

Sponsored Pages
Subscribe to our nose-piercings newsletter to stay up-to-date with the latest news, trends and articles published on this site.