Nose Screws are Statements
For piercings along the side of the nose, many people prefer to wear nose screws.  There are several screw shapes to choose from, and you can find a wide variety of gems and themes to adorn your features and make you feel like a princess.
Perhaps you'd like to show your birthstone.  Many women love to wear the birthstone of their significant other!  You can find nose screws that display zodiac signs, flowers, speed flames, ocean waves, peace signs, or just about any symbol that's important to you.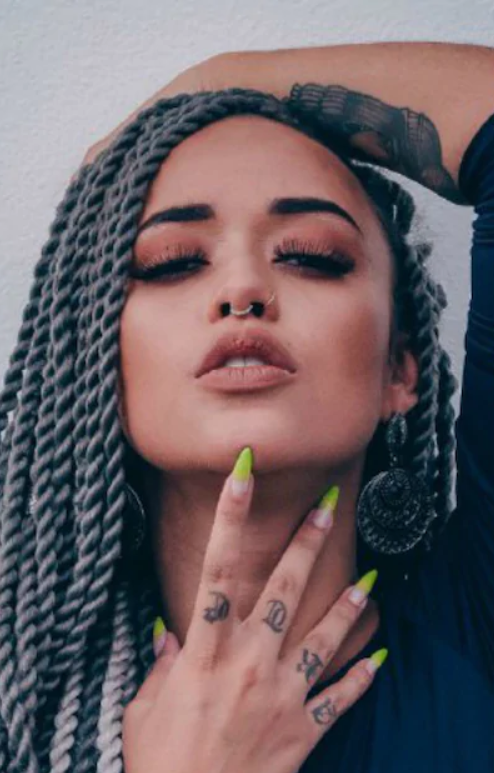 The nose screw actually is not shaped like the traditional screw you'd use in woodworking.  It is generally straight at the end that offers the decoration, and the other end curves down in an L-shape, a semi-circle, or a hook.  You can also choose a nose screw with a straight end to it that you bend to fit your nose.  Your choice depends on the structure of your nose and what will fit comfortably inside it.
Some people believe that nose screws are more difficult to insert than other types of nose jewelry, but -and this is important!-they stay in more securely.   That's why many people choose a nose screw for their first piece of jewelry.
Nose Screws how to screw it
The trick is not to pull up on it when you're putting it in.  First, you insert just the tip into the hole.  Then, instead of pulling the jeweled end straight out from your nose and screwing it in, you've got to let that end of it lay down pointing toward your lip.  You use an angling motion rather than screwing it in head on.  Once you've got it in, just give a turn to the screw end that's inside your nostril so that it's in a comfortable position.

Some screws come in two parts, with a top, decorative cap that you insert into your piercing.  Then you put the screw part-which is actually a tube-into your nostril and affix it onto the end of the cap.
The thickness of this piece of jewelery runs from 16 to 22 gauge.  Remember that the larger the number, the more slender the screw.  It's better to have a smaller-gauge piercing at first, and after it heals completely you can gradually stretch the hole -no more than 1 mm per month- until it's a larger size.
What size should you choose for the ornamental end of your nose screw?  Many people like the look of a diamond or gemstone on the nostril.  But anything more than a chip can be prohibitively expensive!  A satisfactory compromise is to buy a cubic zirconium, something that's 2-3 mm.  Even though it's not a real diamond, the size will feel secure, and it won't look or feel as if it's about to sink into your piercing.
You should be aware that many newly pierced people report difficulty with a piece of jewelry that displays an artificial gem.  Many of them are not hypoallergenic.  Since your healing nose tissue is tender and vulnerable to begin with, and particularly if your skin is sensitive, you might want to go with something that's designed from gold with no gem for starters.
In fact, 22k gold is the absolutely best thing to put into your nose at the time of your piercing.  You've got to keep that one piece of jewelry in place for four to six months.  Of all the possible materials, 22k gold provides the most comfortable jewelry that's least likely to instigate an infection!
Spend extra dollars for nose screws quality craftsmanship
If you opt for something with a stone, look for one that's well constructed.  The prongs should hold the stone flush against the metal so that it won't snag or-worse yet-fall out.  If you pay a few extra dollars for quality craftsmanship, you will consider them well spent in the end.
Remember that while your piercing heals, you should not fiddle with your nose jewelry!  Don't twist the screw in the hole.  Don't poke it from either the inside or outside of your nostril.  Your skin is going through a healing process, and it will secrete body fluid that dries into a little crust around the nose screw.  You can just soak this off with cotton balls or swabs soaked in warm saline solution.
Before you get your piercing, look for a quality jeweler who offers 18-22k gold jewelry.  The more pure the gold is, the healthier it will be for your piercing.  You are having a needle put through the tender lining of your nose, and a pure metal like 22k gold is the best thing for it.  At this site our goldsmiths create unique designs, including Indian nose screw styles that are difficult to find in the West.  We are certain you will something to your liking!
Have A Great Story About This Topic?
Do you have a great story about this? Share it!
What Other Visitors Have Said
Click below to see contributions from other visitors to this page...

To the top of this article about Nose Screws

Sponsored Pages
Subscribe to our nose-piercings newsletter to stay up-to-date with the latest news, trends and articles published on this site.