Facial Piercings - Simple to Extreme!

Facial piercings; ever heard of Elaine Davidson? She is officially titled "Most Pierced Woman", in 2000 she had 192 piercings around her face and head! While, "Most Pierced Man" Luis Antonio Aguero, had 175 rings adorned on his face alone! This is just an example of how far one can go when it comes to body piercings and may seem pretty extreme to many.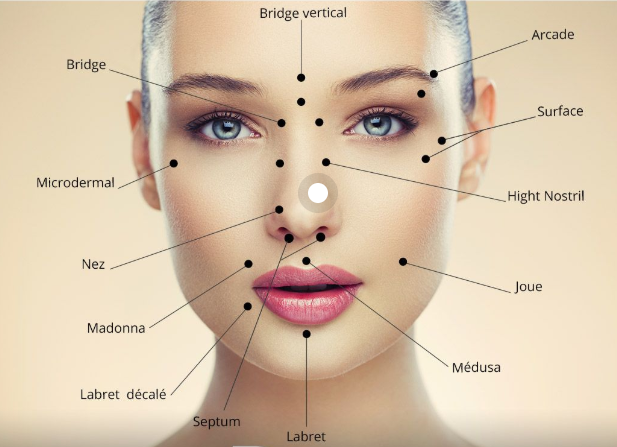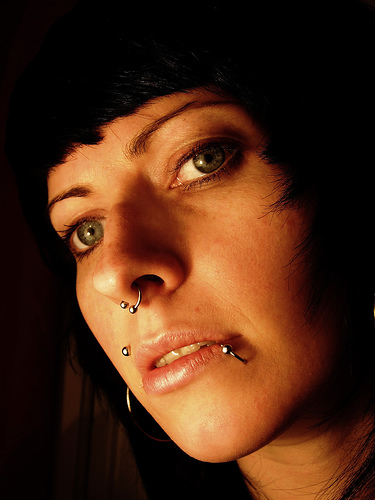 But piercings have been quite common in many cultures and tribal communities around the world for generations. With people opening up to various cultures and fashions, there are different types of piercings that are available today. Let's look at some of the most common types of facial piercings that are available in alphabetical order;

Anti-Eyebrow Piercings
Also know as butterfly kiss, check piercings, and teardrops, this type of face piercings are quite rear. Though it is a surface piercing, with proper jewelry and care it is low risk.

Bridge Piercings


Cheek Piercings
Normally, pierced with a 1.6mm flat labret studs, cheek piercing is another facial piercings. Most common type cheek piercing penetrates the facial tissue into oral cavity imitating dimples.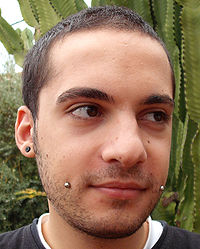 Eyebrow piercings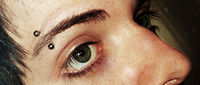 Relatively common piercing and usually take one year to completely heal but, closes within 1 or 2 days of removal of the jewelry! Like other piercings, only professional piercers should carry out eyebrow piercing.  
There are different eyebrow piercings available, and one would need to choose which looks best on them. Depending on the shape of their face and eyebrow, one can choose between the barbell design, and the trapped pearl design, and there are several custom made eyebrow piercings available today.
Jestrum Piercings
A form of lip piercings. Pierced in the philtrum, directly under the septum and the most common jewelry is curved barbell. Possible problems are tooth and gum erosions.

Labret piercings
Similar to Jestrum piercing only differ in location. Also referred as tongue pillar it is pierced below the bottom lip, just above the chin and sometimes.

Medusa Piercings
A variation of jestrum piercing, where a labret stud is used for this type of lip piercings.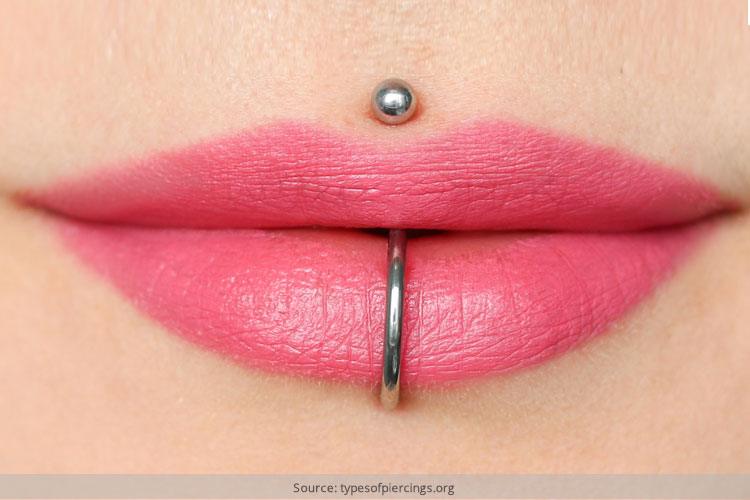 Monroe Piercings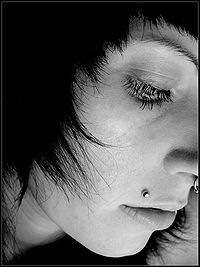 Monroe piercing is also known as a Madonna, Crawford or mouche piercing. It was popularized in late 70s and 80s. Relatively, painless and heals faster than other piercings, where it take between 2 to 3 months but there many cases where it heals within 3 to 6 weeks.
Other common head & facial piercings

Ear Piercings
Either one can carry out the 'single hole' ear piercing, or their imagination is their limit. While normally, an ear piercings is a simple hole at the end of the ear lobe – because it is the fleshiest part of the ear - one can go ahead with three, four piercings in the ear, or they can even pierce the top of the earlobe.

Tongue Piercings
Click here to read about tongue piercings

Eyelid Piercing
Eyelid piercing, another form of facial piercing, is quite a complicated piercing, which consists of piercing the upper eyelid. This is a very rare type of piercing, and only a handful of people have ever tried it. However, those who have gone through it did not report any issues with the piercing. To look for people with eyelid piercings, one would have to visit the various tattooing and piercing conventions.  
These are some of the types of face piercings widely prevalent today.
Have A Great Story About Face Piercing?
Do you have a great story about this? Share it!
What Other Visitors Have Said
Click below to see contributions from other visitors to this page...

From Facial Piercings - Simple to Extreme to Nose Rings - Different Varieties are Available

Sponsored Pages
Subscribe to our nose-piercings newsletter to stay up-to-date with the latest news, trends and articles published on this site.