Bridge Piercings
Bridge piercings is another type of facial piercing also known as "Erl or Earl Piarcing" after its first recipient Erl van Aken. Pierced through the skin on the bridge of the nose, directly between the eyes. Piercing a nose bridge is riskier because it is surface piercing, which means that it is carried out on a flat surface, and does not have the skin to hold a piercing, like the earlobe or the tongue would have.
Surface piercing is much more complicated as compared to normal piercing, and the chances of rejection are very high. A bridge piercing is quite complex, and a properly done a piercing should last up to a few months to several years. The most common areas for this type piercing are between the sides of the nose, or on the side of the face, etc. Usually, surface piercing requires the person to have additional skin on the area to be pierced and can be quite painful when compared to other forms of piercing, ear, lip, etc.
If you're wearing spectacles, you may want to avoid heading in for this form of piercing. As it is, the spectacles rub against the nose bridge and any piercing on that particular area will only serve to irritate the skin further.
Make sure you do the required online research before opting for this form of piercing. And double check with your physician to ensure that you've no infection to worry about.
Common, Bridge piercings jewelries are straight barbells, although curved barbells and bars are used are as alternatives. It is possible to wear captive bead ring once the piercing as healed.
If you might want to try other types of skin piercings apart from bridge piercings! Here are few types; 
Corset Piercing
Corset piercing is done at the back, in such a way that would seem like the knots of a corset. Corset piercings are very difficult to carry out, as each set consists of two piercings, which have to be parallel and diagonally opposite each other. The corset piercings are generally thought to be temporary. Corset piercings cannot be worn for more than a few hours, and may be one of the temporary types of piercings.

Madison Piercings
Madison piercings are almost always temporary; they are carried out at the base of the neck. When it comes to surface piercing, the type of accessory used also matters. For example, one can use captive beads as a piercing accessory, but that will usually be rejected. The type of accessories that have worked are the barbell piercing.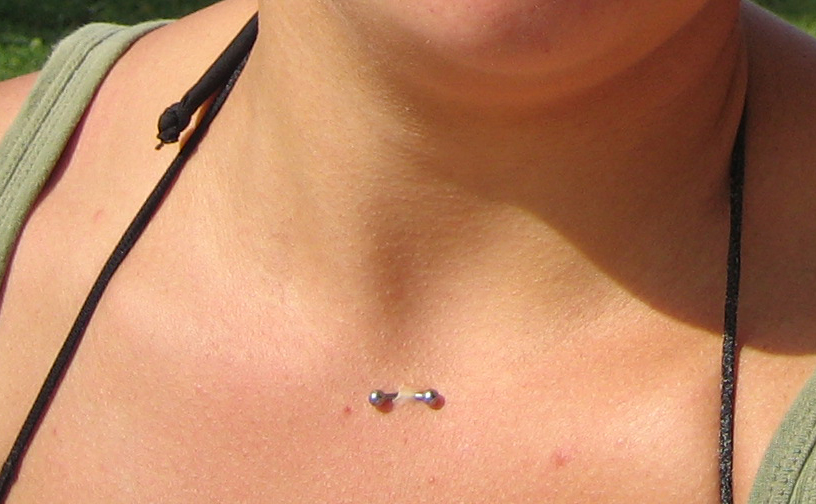 Nape Piercing
Nape piercing is another type of surface piercing that carries a large change of rejection. Nape piercing is carried out at the back of the neck, and the accessories that are used are barbell shaped accessories. Using any other type of accessory for nape piercing is quite rare. While nape piercing has a large change of failing, there is no chance of nerve damage, as popularly said to be.

Neck Piercing
Neck Piercings are piercings at the side of the neck, and they are also called as vampire piercings, because of the proximity to the side of the neck. The best bet for neck piercings are surface bars, as the skin will reject straight barbells more than ninety percent of times.
These are the four most famous types of bridge piercings and other surface piercing.
To the top of this page Bridge Piercings

Sponsored Pages
Subscribe to our nose-piercings newsletter to stay up-to-date with the latest news, trends and articles published on this site.