Indian Nose Jewelry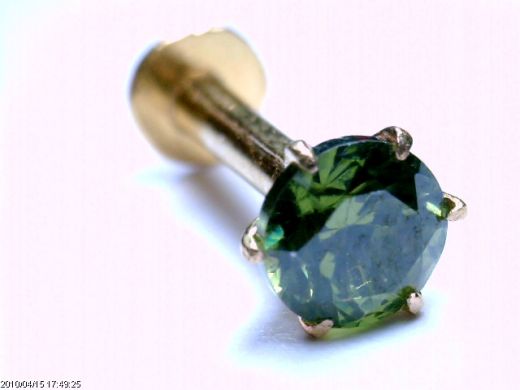 Welcome to the preeminent place for buying quality gold Indian nose jewelry!
We take pride that our goldsmiths are capable of crafting the most exquisite designs to be found anywhere, from lustrous 22k gold-the purest available.  Through their artistry we can offer unique Indian designs that you will not find in most Western stores or catalogs.
We believe it is possible to express your cultural or religious beliefs through the beauty of gold and gemstones, and we want you to be very certain of what you're ordering ahead of time.

A Little Bit of History About Indian Nose Jewelry
The custom of nose piercing goes back through the ages, as far as 6000 BCE.  (BCE designates a less Christian-centered historical frame of reference and is simply called the Common Era.)  The use of nose rings is even mentioned in the Vedas, which are the venerated ancient Sanskrit texts known to be the oldest scriptures of Hinduism embraced by the orthodox Indian sects.

The Vedic scripts were divided into several scientific sections, and the Ayurvedic texts referred to the science of medicine.  Ayurvedic yogis taught that networks of nerves ran through the body connecting various body areas.  Those who studied Ayurvedic medicine learned that even simple caressing of nerve networks could affect other body systems.
Ayurvedic principles taught that the nostril's nerve bundle came to be associated with the female reproductive organs.  Practiced goldsmiths learned how to find just the right spot so that the nose piercing would ease a woman's discomfort during her natural monthly cycles and alleviate the pain suffered during childbirth.  It was vital, whether piercing either the ear or the nose, that no passing nerve system would be wounded or otherwise disturbed.
That is also why ancient customs dictated nostril piercing to occur on the eve of a young woman's wedding, so that she would go to her husband prepared for her years of fertility.  The traditional bride wore a chain attached from her nose ring and affixed to the hair over her left ear, and only the groom was permitted to remove it.  This was in emulation of the exquisite Lakshmi, goddess of wealth, generosity, light, courage-and fertility-who also displays a pierced nostril.
Contemporary Indian Nose Jewelry.
The jewelry creations for nose piercing that you will find from our Indian artisans express simple yet elegant designs.  And we also offer complex embellishments, preferred by many who love intricate gold detail and multiple gemstones. 
Indian designs blend this elegance with equal parts of comfort and safety.  Because the inside of the nose is lined with soft, moist skin, there is an Indian nose screw made for this very purpose.  And it's ideal for larger nose rings created with a high degree of complexity.  This special design keeps the nose ring securely in place, even if you sneeze!
This traditional Indian nose ring, or pin, is made from a tube and a screw.  The tube is tiny-usually about 1 mm in diameter-and on the tip is the jewel or design that you display when you wear it.  The bottom part is the screw, which closely resembles the same type of screw that carpenters use, but slender enough to fit inside the tube.  On the end of the screw there is a cap that keeps your nose screw locked in place without causing pain to your nostril.  You push very gently on the tube to insert it into your piercing, and then from inside your nostril you twist the screw-and-cap end into the tube so that it locks into place.  You can feel confident that it will not fall off and get lost!
With this secure type of interlocking jewelry, you gain the freedom to express yourself -spiritually or simply ornamental- with a much larger variety of choices.  Most nose rings offer smaller designs because the curved hook or corkscrew cannot bear the weight of something larger than 1-3 mm.  But with the tube-and-screw pin, you can select something that's 6 or 8 mm.
Materials Used for Indian Nose Jewelry
You can decide on a simple gold design melded with lustrous gold scrolling or balls.  Or you can select a piece that displays enameling or multi-jeweled designs, featuring precious gems like ruby, emerald, and sapphire.  Indian Jewelry designs also embrace the use of coral, turquoise, citrine, iolite, peridot, and cubic zircons-or let us know what you'd like!
You've read elsewhere that we offer unique Indian nose jewelry created from pure 22k gold, and we want you to understand exactly what you can purchase at this website.
With our shipping policies including careful handling and insured delivery you will be coming back again and again.  When your purchase arrives you will know before you even open the package that it is going to be everything you expected -and more!
From Indian Nose Jewelry to the main page about Nose Ring Piercing
Quick link to other relevant pages
Nose piercings - Information and Unique Design
Unique Nose Piercing Jewelry 
Nose piercing FAQ - Read the Answers
Nose piercing FAQ - Read the Answers
Sponsored Pages
Subscribe to our nose-piercings newsletter to stay up-to-date with the latest news, trends and articles published on this site.