Do nose piercings hurt?
Our own pain level survey result!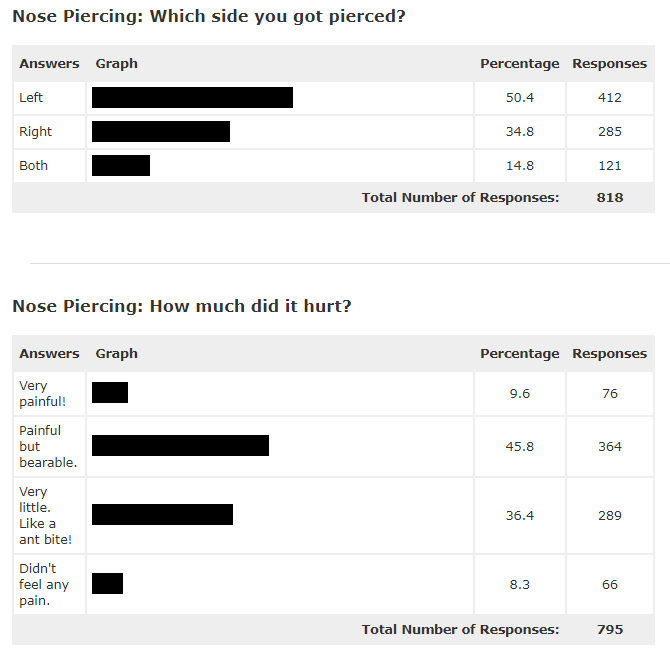 What others have said....
I had mine pierced twice - once with a gun and once with a needle. Both times, I had studs inserted.
I'd rate the pain of being pierced with a gun 6/10 and the discomfort 8/10. With a needle, it was 4/10 pain, less than having your blood taken with a needle since the moment of contact is so short, and discomfort 6/10. This coming from someone who's a wuss where pain is concerned.
With a gun, my nostril throbbed for weeks and they had to bore a large hole. With a needle, they could make a narrower hole and throbbing only continued for an hour afterwards, with minimal discomfort following it. It was less of a throbbing than a sharp stinging sensation, as if someone with very sharp nails is pinching the skin around the pierced area.
Really though, the anticipation of pain when a tube is slid up your nose is almost the worst part of getting your nose pierced with a needle. With a gun... I felt like my skin had been brutally punctured and there was no space left in my nostril (again due to needing to have a large hole drilled in).
Your eyes will tear up, as other answers have mentioned but its not from the pain. Its a reflex action.
After the initial settling in period, a nose piercing doesn't hurt. You're vaguely aware of it and it does make picking your nose a little trickier (particularly in the initial weeks when you're supposed to be gentle around it), but all in all its no more painful than wearing earrings.
To be honest it actually depends on your pain tolerance. I had mine when I was three years old because here in India parents willingly pierce their child's nose and earlobes. They think that small children have very soft skin and not so thick so it won't hurt much and it would be easier to pierce their skin.
I actually pierced my nose two times because I used to hate nose piercings and decided to take it off when I was 11 or 12 years old. But when I turned 13 my emo self grew out (not the actual reason) and I started to love piercings. Then I repierced my nose. From the scale of 1 to 10, I would say it was 6 for me. I still have my piercing and I love it!
That's it. My answer ends here just in case if you want to know my 'piercing story' here you go
When I decided to repierce, I had both of my earlobes pierced. I went to a shop and got my nose repierced but I wanted some more so I got helix piercing on both ears. I was 13 that time and it was without my parents' consent. I just don't know what was into my mind. But as soon as I reached home I realized what I had done and started to regret it. I was scared that my father or mother will scold me or something. So I just entered the house and to avoid them I went to my room to sleep. When I woke up my mum said that my new piercings were good and told me to take care of them properly. I was happy that my mum didn't scold me but I was scared od what my dad will do. Some days later my piercings got infected and my dad helped me take care of it properly (till then my father didn't knew that I got new piercings or maybe he did idk) and it healed real quick. Four months later I decided to get new piercings and this time I got four piercings at once tragus piercing and upper lobe piercing on both ears (again without asking my parents) but my parents still didn't mind it.
I am grateful to have such a nice parents. In the end I just want to say that I'm such a spoiled brat and I don't deserve them.
Thank you
Sponsored Pages
Subscribe to our nose-piercings newsletter to stay up-to-date with the latest news, trends and articles published on this site.