Piercings Faciales – ¡Desde Sencillo a Extremado!
Amazon Best Sellers Discounts and Offers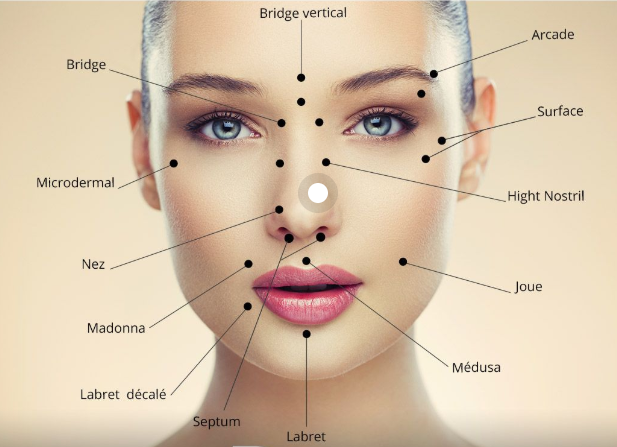 Piercings faciales, ¿ha oído hablar alguna de vez de Elaine Davidson? Ella es la oficialmente titulada "La mujer más perforada", en el año 2000 ¡tenía 192 perforaciones alrededor de la cara y la cabeza! Mientras, "El Hombre Más traspasado" Luís Antonio Agüero, contaba con 175 anillos ¡sólo adornando su rostro! Esto es sólo un ejemplo de hasta dónde se puede llegar cuando se trata de perforaciones en el cuerpo y puede parecer bastante extremado para muchos.
Pero las perforaciones han sido bastante comunes en muchas culturas y comunidades indígenas de todo el mundo durante generaciones. Con la apertura de la gente a diversas culturas y modas, hay diferentes tipos de perforaciones que están disponibles hoy en día. Echemos un vistazo a algunos de los tipos más comunes de piercings faciales que están disponibles en orden alfabético;

Piercings Anti-Cejas
También conocido como beso de mariposa, compruebe piercings y lágrimas, este tipo de perforaciones en la cara son muy raras. A pesar de que es una perforación de la superficie, con las joyas adecuadas y con cuidado, es de bajo riesgo.

Piercings del Puente
Piercings de Mejilla
Normalmente, perforado por un stud plano de de 1.6mm, el piercing mejilla es otro piercings faciales. El tipo más común de piercing de mejilla penetra en el tejido facial hasta la en cavidad oral para imitar los hoyuelos.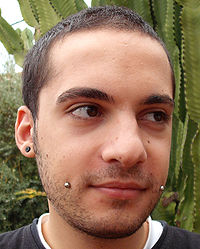 Piercings de la ceja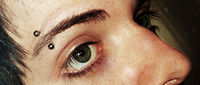 Perforación relativamente común y suelen tardar un año en sanar completamente, pero ¡se cierra el plazo de 1 o 2 días al quitar las joyas! Como otros piercings, sólo perforadores profesionales deben llevar a cabo piercing en la ceja.
Hay diferentes piercings para ceja disponibles, y uno tiene que elegir cual le sienta mejor a uno. Dependiendo de la forma de su cara y las cejas, se puede elegir entre el diseño de Barbell y el diseño de perlas atrapado. También hay varios piercings de ceja realizados por encargo en la actualidad.

Piercings Jestrum
Una forma de piercing en los labios. Atravesado en el filtrum, directamente bajo el tabique y la joya más común es la Barbell curvada. Los posibles problemas son erosiones diente y la encía.

Piercings Labret
Similares al Jestrum piercing sólo se diferencian en la localización. También se conoce como pilar de la lengua, es perforado por debajo del labio inferior, justo encima de la barbilla a veces.

Piercings Medusa
Una variación del jestrum piercing, donde se utiliza un stud labret para este tipo de perforaciones en los labios.

Piercings Monroe
El Monroe piercing también se conoce como una perforación de Madonna, Crawford o piercing mouche. Fue popularizado en los años 70 y 80s. Relativamente, sin dolor y se cura más rápido que las perforaciones, en donde tarde entre 2 a 3 meses, pero hay muchos casos en que uno se recupera a las 3 a 6 semanas.
Otros piercings de cabeza y faciales comunes.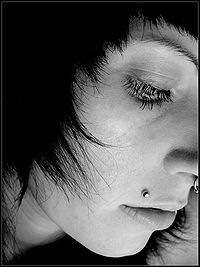 Piercings de Oreja
Cada uno puede llevar a cabo la perforación un "agujero único" de la oreja, o su imaginación es el límite. Mientras que normalmente, un piercings de oreja es un simple agujero en el extremo del lóbulo de la oreja -, porque es la parte más carnosa - uno puede hacerse tres, cuatro perforaciones en la oreja, o incluso pueden perforar la parte superior de la lóbulo de la oreja.

Piercings en la lengua
Haga clic aquí para leer sobre piercings en la lengua

Piercing del Párpado
Perforación de los párpados, otra forma de piercing facial, es un piercing muy complicado, que consiste en la perforación del párpado superior. Este es un tipo muy raro, y sólo muy pocas personas alguna vez lo han intentado. Sin embargo, aquellos que lo han realizado no han informado ningún problema con el piercing. Para encontrar personas con piercings en los párpados, se tendría que visitar los diferentes centros de tatuajes y las ferias de piercings.
Estos son algunos de los tipos de piercings faciales hoy en día muy extendidos.
From Piercings Faciales – ¡Desde Sencillo a Extremado! a Anillos Nasales – Hay Disponibles varios tipos

Sponsored Pages
Subscribe to our nose-piercings newsletter to stay up-to-date with the latest news, trends and articles published on this site.