Piercing del Tabique Nasal - Lo que usted debe saber
Amazon Best Sellers Discounts and Offers
Piercing del Tabique Nasal - Lo que usted debe saber?
Si usted está buscando algo que sea un poco más atrevido que una joya que adorna la fosa nasal es que está preparado para considerar una Piercing de tabique nasal.
También conocidos como anillos de toro, muchas personas piensan que los piercing del tabique nasal son mucho más innovadores y atrevidos. La gente los elige para expresar tanto las tradiciones culturales o como su propia individualidad. Ponerse uno es un poco más molesto y tarda un poco más en sanar.

Piercing del Tabique Nasal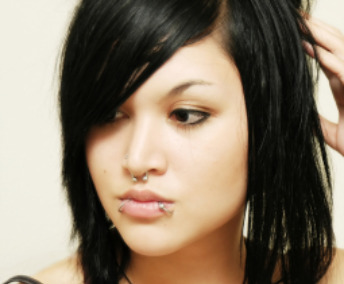 Su tabique nasal es el cartílago que divide las fosas nasales, una pieza rígida pero flexible, de tejido que no contiene vasos sanguíneos. El punto de perforación real, sin embargo, es una partición muy fina de piel justo en el interior de las fosas nasales donde la parte inferior de la nariz se junta con la parte superior del labio.
Como la aguja no irá realmente a través del tabique, -si estás en manos de un profesional del piercing con experiencia-, habrá un poco de sangre, pero muy poco dolor.
La aguja de calibre óptimo, por cierto, será de 14 o de 16 mm., -cuanto mayor el número, menor es el calibre-. A algunas personas les gusta estirar las perforaciones, pero nunca se debe hacer esto hasta que sane. No es aconsejable para estirarlo más de 8 mm.
Vamos a hablar del mencionado profesional del piercing perforador con experiencia. ¿Cómo se puede encontrar? Usted puede consultar estudios de piercing o tiendas de su barrio o visitar un salón de tatuajes. Pregunte a los expertos piercing que le muestren un portafolio de su trabajo. También debe estar dispuesto a contestar sus preguntas acerca de la higiene y del procedimiento. ¡Si el profesional no comparte con usted su preocupación por la higiene a mantener, más vale que corra!
Y nunca debe hacerle sentir como un bebé sin experiencia sólo porque usted tiene un montón de preguntas. Debe ser paciente y estar dispuesto a responder a todo lo que se le ocurra.
Usted debe ser consciente de que muchas perforaciones del tabique son un poco irregulares porque la textura de los cartílagos-o, más exactamente, la piel debajo de ella, hace que sea difícil lograr una alineación perfecta.
En la mayoría de los casos este desajuste es tan pequeño que nadie se da cuenta. Pero si su especialista en piercing no tiene experiencia, puede que le dé un ángulo a la aguja demasiado abrupto por un lado y el resultado final sea el de un piercing torcido.
¿Hacer un piercing en la nariz duele? En una palabra, sí, ¡pero sólo brevemente! Algunas personas dicen que la perforación del tabique duele menos que la perforación de cualquier otra parte de su nariz.
Mayormente eso es porque la parte de la piel que se traspasa es tan delgada que se introduce la aguja a su través en un instante. Pero se produce un cierto malestar, porque la nariz y las zonas del seno tienen una alta concentración de terminaciones nerviosas.
Usted no sentirá ningún crujido desagradable cuando se perfore el tabique, pero seguramente le escocerá. Sus ojos producirán un lagrimeo reflejo. Durante el primer y segundo día, la mucosa de las fosas nasales y senos paranasales estarán irritados y es posible que estornude mucho, lo que puede ser molesto e incómodo.
Se espera que la curación total tarde por lo menos seis semanas. Use bolas de algodón o un palitos con puntas de algodón con una solución de agua tibia con sal de mar para limpiar el piercing. A veces tendrá que empapar un algodón en la solución caliente y simplemente sostenerlo sobre la perforación para aliviar los tejidos irritados.
Cuando tenga que decidir sobre qué joya usar para el tabique, el oro es el mejor metal para elegir. La plata manchará permanente su piel, y otros metales menos puros pueden irritar los tejidos sensibles. Las joyas de 18kt, 14kt y 22kt joyas permiten la máxima comodidad y la rápida curación.
Piercing del Tabique Nasal - Elija uno de estos tipos de joyas:
La barra circular es una varilla pequeña curvada en un arco. Lleva cuentas decorativas atornilladas en los extremos. Puede deslizar las cuentas o bolitas dentro de su nariz cuando no quiera que su piercing se vea.


Los Anillos de tabique pueden ser lisos o decorados con un cordón o una joya.


El anillo de perla cultivada es uno de los estilos de anillos, pero la cuenta se mantiene en su lugar por los extremos del círculo que ejercen tensión en la perla. Se puede deslizar el anillo a través de la perforación, de un lado para otro, pero la cuenta se quedará en su sitio.


Los "tusks" del tabique son piezas rectas de metal, con los extremos generalmente en forma de cono.
Así como es importante elegir un especialista con cuidado, usted también debe ser selectivo en su elección de joyas. No hay metal más natural o que facilite una mejor cicatrización que el oro.
Utilizamos orfebres experimentados que elaboran hermosas joyas de calidad y nos especializamos en diseños de inusuales que no encontrará en otra parte en los mercados occidentales.
Piercing del Tabique Nasal - Lo que usted debe saber Piercing del

Sponsored Pages
Subscribe to our nose-piercings newsletter to stay up-to-date with the latest news, trends and articles published on this site.