Non Piercing Body Jewelry - An Alternative?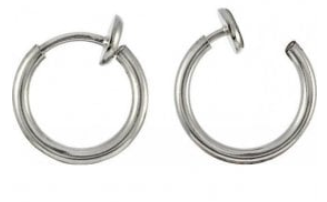 Non Piercing Body Jewelry if you are not ready for piercing! Body adornment to enhance attractiveness or draw attention to oneself, is big business. Conventional jewelry has given way to piercings and tattoos to decorate the body canvas. Yet with non-piercing body jewelry one can make a fashion statement and also project a unique personality. This is non invasive and can be a healthy substitute to jewelry used in piercings. Piercings of body parts like the tongue, lips, belly button, nipples, and genitalia, are fraught with the dangers of infections and life long scars. Sometimes the jewelry used for the piercings lead to allergies and septicemia. If not done by experienced practitioners, piercings can cause disfigurement. Instead of being done on the soft tissues, the piercing needle can accidentally damage nerves or blood vessels leading to complications, like loss of sensation and non healing of the part.

Non piercing body jewelry is used to decorate body parts that are generally pierced like the belly button. Instead of piercing the area and waiting for it to heal by using only non allergic metal jewelry, try using cubic zirconia danglers or studs which can be 'stuck' onto the navel. The range of colors can be mixed and matched to show off a well exercised and toned ab while wearing hipsters and short tops. Girls who are not so slim can still scream 'so what' by emphasizing their girth using bling over their navel. It's all a question of attitude! Some of the navel pendants come at the end of a delicate chain that goes around the waist and doesn't need to be stuck on.

Imagination is the only limitation
Have a drop pearl stud on the side of the nose or use a split ring with a gold ball to sit ensconced without falling off. Have studs of faux diamonds clipped on ear lobes or all over the ear with small magnets at the back to hold it in place. There is no need to get the eyebrows pierced to draw attention to them. Small colorful baubles can be stuck on like glitter on eye lids and over the eye brows in fancy designs. Just do one eye and see the looks that will come your way – whether it is complimentary or not isn't your problem! Non piercing body jewelry Is also being used for covering private parts, by both men and women, for some couple fun. Here imagination is the only limitation – use shapes that arouse a partner and provide pleasure.

Whereas piercings require the conventional rings or bar designs, non piercing body jewelry can come in all sorts of shapes or designs, and is made of a range of materials to suit all kinds of budgets. There is greater flexibility in the material used to make this sort of jewelry. Attention should be paid to the kind of glue used to stick the jewelry onto the skin. These are made of non allergenic substances that do not harm the body, yet some people could get skin reactions using these. This kind of jewelry is much safer, with more variety to choose from, than jewelry used in piercings, and there is no fear of things going wrong.

Make a fake nose piercing.....
From Non Piercing Body Jewelry - An Alternative? to Belly Button Piercing - Are You Ready For It? 

Sponsored Pages
Subscribe to our nose-piercings newsletter to stay up-to-date with the latest news, trends and articles published on this site.