Belly Button Piercing - Get Noticed!
You're ready to consider a belly button piercing if you're seeking something that's a little more daring than just a gem adorning the ear and nostril. What better way to show off than with belly button ring. Fashionistas all over the world are using belly button decorations to highlight the clothes they are wearing, changing the designs accordingly. The material used to make the jewelry, to adorn the belly button are gold, sterling silver, stainless steel, platinum, and even specialized plastic. These are studded with diamonds, gems, beads, or cubic zirconia. Needless to say, the value of the jewelry depends on the material and genuine stones used. Definitely makes a glamorous style statement, depending on the social circles you are likely to move around in.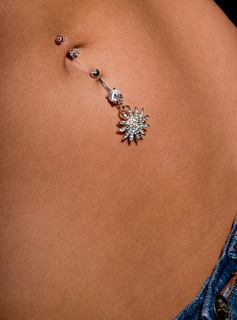 Belly button piercing reflects your attitude?
Before you decide that a belly button piercing reflects your attitude, go online and check out the pros and cons of getting such a piercing done. The possibility of closing a piercing should also be looked into as you may want to do so if you are bored with it, or the site of the piercing is being subject to friction and is not healing. There are a number of sites offering trained personnel who counsel and tell you all the details on how it is done and the routine care that is required to keep the piercing clean and free from infections. The sites also provide different kinds of jewelry for the navel, to suit all budgets. When buying expensive material like gold or diamonds, make sure that the site is a reputed one and provide a certified guarantee on their products.
The standard way of getting a belly piercing done is to have a single piercing done on either the lower or upper rim of the belly button. It is more painful than getting the ear pierced. The belly button itself can be pierced but this is not recommended as healing is slow and complications can occur. Multiple piercings can also be done but there should be a time gap between each so that healing takes place for each piercing. Strictly follow the after piercing care as instructed by the piercist. The jewelry chosen, after the piercing is done, is in the shape of a curved bar or like a ring with a ball shaped end. The latest designs of jewelry that dangle from the navel are becoming popular, especially with hipsters and short tops. The right sparkle does wonders for sex appeal.
Pregnant women are flaunting a belly button adornment to emphasize their baby bulge. Belly button piercing that is already done continues to be safe for pregnant women, but it is recommended to take the doctor's approval to continue wearing a ring. Do not get a piercing done when pregnant. Mums to be can replace their metal belly button rings or bars with the soft, flexible polytetrafluoethylene which can accommodate stretching of the skin, and is amenable to hygienic care. Go in for a belly button piercing if you are convinced that it is for you.

From Belly Button Piercing - Get Noticed! to Piercings - Ancient
Practice or Fashion Statement?
Sponsored Pages
Subscribe to our nose-piercings newsletter to stay up-to-date with the latest news, trends and articles published on this site.