Nose piercing prices
Now that you have made the decision to have your nose pierced, it's wise to know about nose piercing prices ahead of time so that you don't feel cheated in this exciting adventure!. Knowing what to expect goes a long way toward helping you overcome anything out of the ordinary.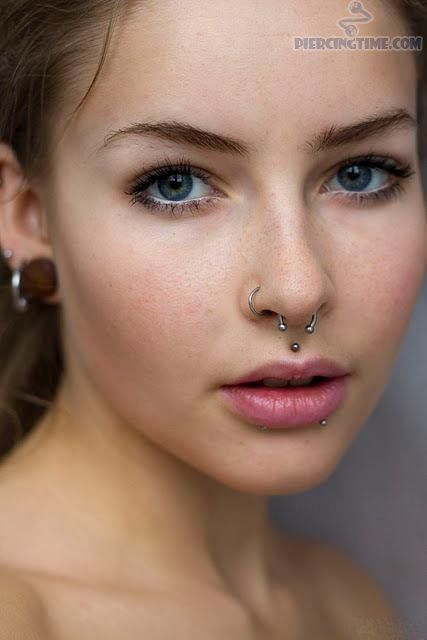 It is common to assume that, higher piercing prices means a better and more professional service, yet those statements have nothing to do if you are getting pierced at the mall jewelry store or a sketchy piercing shop. Body piercing is a trained skill so, when getting a piercing, you're also paying for the piercer's professionalism and skills, sometimes for their experience 
Professional body piercers are trained extensively in the proper equipment to use, the proper operation and sterilization of their equipment, and how piercings can affect the body. Part of their training includes learning how to avoid hitting sensitive nerves which can cause extreme pain if they are inadvertently pierced or nicked. These professionals also learn how to prevent cross-contamination of disease and infections. Not only are they thoroughly trained in how to properly sterilize their instruments in an autoclave, they are also trained to throw away any pieces that cannot be autoclaved. They also learn the importance of thoroughly disinfecting all work areas before and after every piercing they perform. 
As you can see, using a professional body piercer who uses a piercing needle has several significant advantages. Avoiding the pain and trauma caused by poorly-trained piercer and drastically reducing the likelihood of a post-piercing infection or other complication. Professional piercers might cost a bit more than having your nose pierced by one of those poorly-trained employees in a shopping mall, but they actually know what they're doing and the procedures they use will minimize the risk of pain and infection. That makes nose piercing performed by a professional with a piercing needle worth a few extra bucks, doesn't it? 
So what is the commonly accepted nose piercing prices?. Expect to pay thirty to fifty dollars for less expensive piercings like nose piercings and but more than a hundred for a multi-spiral cartilage piercing. Also don't forget to check whether the jewelry cost is included or not. Most places include the jewelry in the price, although you may have to pay a little more for titanium or something special. As mentioned before nose piercing prices are for the skills and experience of the piercer which also includes the care and preparation put in handling the sterile needles, autoclaving and cleaning to avoid infection. It cannot be measured in dollars and cents. 
Here is a list of Nose Piercing Prices compared with other Body Piercing prices; 
earlobe Piercing Prices $20~$30

septum Piercing Prices $45~$55
eyebrow Piercing Prices $35~$45
genitals Piercing Prices >$100
Above body piercing prices are just an estimate, usually earlobes are the cheapest and easiest to heal, while nose piercing prices are also relatively inexpensive, but relatively take time heal. 
While looking for a reasonably cheap nose piercing prices, under no circumstances you should get your nose pierced with a piercing gun. Beware of mall and department store locations which typically use piercing guns rather than piercing needles, the risk is too high to be worth it. That means you're risking trauma to the area, a nasty infection, and scarring.Piercing guns are designed and intended to be used only in traditional ear piercing, to pierce the soft tissue of the earlobes. The force required for a piercing gun to pierce cartilage - such as when a nostril is pierced - can actually shatter the cartilage. The result can be a tremendous amount of pain, a lengthy healing period, an increased risk of infection, and even permanent disfigurement due to cartilage damage. The story is completely different with piercing needles, which are unrelated to sewing needles. Instead of bashing their way through tissue by brute force, piercing needles have extremely sharp, beveled tips for easy insertion and are similar to the needles used by nurses to start IVs on hospital patients. 
Piercing guns are usually made of plastic and cannot be sterilized in an autoclave, which increases the risk of cross-contamination and disease transmission. Wiping a piercing gun with a sterile pad soaked in antiseptic or alcohol just doesn't do a proper job of sterilization. Piercing needles, on the other hand, are routinely sterilized in autoclaves, and any component which cannot be autoclaved is disposed of immediately after use. Autoclaving provides proper sterilization, immediately destroying any blood-borne disease pathogens that might be present on the piercing equipment. 
When you are getting your piercing done, before asking for nose piercing prices, ask your piercing professional for piercing methods used, including aftercare service and consultation. You might be excited or a little uncomfortable immediately after the piercing, and if you wait until then to receive instructions you might have difficulty remembering them! Increase your odds for a good piercing experiencing by following all instructions-and being prepared for anything out of the ordinary.
FromNose Piercing Prices to Nose Rings - Different Varieties are Available

Sponsored Pages
Subscribe to our nose-piercings newsletter to stay up-to-date with the latest news, trends and articles published on this site.