I Want A Nose Piercing Stories
I want a nose piercing at 12!
Hi I want a nose piercing so badly! And thinking about getting my nose pierced and I don't want it to hurt what places do you know that will numb your nose cause I am like terrified but I really really want it done. Does every nose piercing place numb your nose if you want it numbed cause I don't want it to hurt cause I really hate needles but I really want it done and by the way I am 12 years old can i get it done at that age???
Reply to me at
https://www.nose-piercings.com/can-get-nose-piercing-at-12.html

Inspired other with my double nose piercing!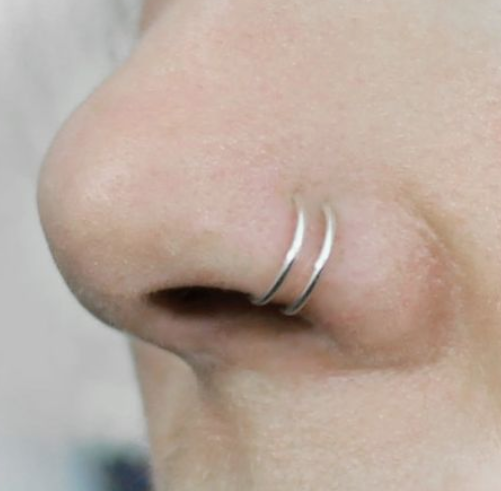 I want to share my nose piercing with all. I am young lady working in a M N C. people at my office look my double pierced nose and told that my nose looked very very beautiful and cute.
inspired by my nose piercing, many of the girls in my office pierced their nose, of course onside only, either right or left.
https://www.nose-piercings.com/double-nose-piercing2.html

Piercing myself and my sister
hi I am Neha. I am now 36 years old.  At the age of sixteen my mother convince me for nose piercing. She said nose piercing is good for a wife or bride. According to our family tradition all girls nose pierced before marriage. So she said along with my sister who was at the age of nineteen have to go for nose piercing. So my mother take us to piercer and pierce our left side. I spotted a hoop where as my sister spotted a stud. She use a bridal nose ring with a long chain in her marriage while I have spotted a medium sized diamond stud. After marriage I get my right nostril pierce as per my husband wish and spot a tiny gold pin and close the hole of left nostril with
a broomstick. I have planned to wear nose studs both sides when my daughter get married.
https://www.nose-piercings.com/nose-piercing-of-me-and-my-sister.html

I want a Nose Piercing-but shy to do it

Hi,
My husband insisted me to pierce my nose. I said no and I don't like that. After that he dint insist me. Now, I'm curious to have nose piercing but I'm shy to ask for it.
Any suggestions pls.
https://www.nose-piercings.com/nose-piercingshy-to-do-it.html

I pierced my wife's nose by winning a bet
When we got married my wife was without nose piercing so I instantly asked her about nose piercing. But she never wanted one! One day while we both playing chess game we bet that if who ever win they can ask what ever they wish! In the first game I won so I asked her to pierce her nose. Initially she was reluctant but accepted my request. I pierced with a needle and inserted a single stone stud which I bought earlier.  She looked at her face in the mirror her eyes were in tears of joy and its so beautiful. In the second game she won and she wants to pierce my septum so I got pierced from her!!! Now in third I won the game and I pierced her septum. We intend to play the game again so that I can pierce her for double nose piercings.
https://www.nose-piercings.com/i-pierced-my-wifes-nose-by-winning-a-bet.html

My life and piercing
I want a nose piercing from young age! I am from Haryana near Delhi. I am nose piercing guy .In the schooling days I take newspaper and trace nose ring on girl nose. In adult hood I used to wear fake nose ring . My family don't know about it. At the age of 20 I pierced my septum but I can't afford to buy a jewelry. My family financial condition become so poor. So I got job far from home. I used to wear fake nose ring. But I don't satisfy. One day I take injection needle and put on nostril and pierced. I want to learn piercing and tattoo and open shop but I can't afford due to less money. Now I become 22 and I think if I can save 1500$ to 2000$ . I can open a nose piercing shop and I start my new life. I want a nose piercing and feel cool about having one, two and three!
https://www.nose-piercings.com/my-life-and-piercing.html

Sponsored Pages
Subscribe to our nose-piercings newsletter to stay up-to-date with the latest news, trends and articles published on this site.