Fake Nose Ring if feeling rather Adventurous!
Fake nose ring is here to help you! You want nose piercing badly, but not sure how it will look on you or you worry you family might not approve your piercings, fake nose rings will give you a clue about what it is like to wear special face jewelry.
The most common are simple rings that adhere to the natural curves of the nose, and fake nose rings use magnets to make them stick to the nose wall. Many varieties of designs and shapes, fake nose rings save you if you have difficultly in healing of nose cartilages or slow at self-healing.
Fake nose rings have found a solid ground in the Western world throughout the last decades and many youngsters are the most receptive ones to such jewelry innovations that make one stand apart. 
Reason for choosing fake nose ring
1) You just want to try few different types of fake piercings before deciding on a type for permanent piercings.
2) Worry about piercing pain.
3) If you are allergic to certain metal or plastic or even allergic to needles.
4) Worried about infection, prolonged healing process, keloid and scars
5) Unable to convince you parent and family members
6) Religion or Cultural taboo and etc.
7) Nose Piercing are banned at school or some working companies
8) You don't want your piercing to permanent. Fake body jewels have merely opened the door for everyone to change looks and share a feeling of belonging to the futuristic environment; with the great comfort of resuming the 'conventional' look at will.
9) You just want to be adventures for an occasion or a party!
10) Or you just don't want scar or damage your beautiful nose!
Cheap U Shaped Fake Nose Ring
Fake nose ring can be worn as septum or on your nostril, if you're feeling rather adventurous!  There are many varieties to choose in a fantastic range of designs so you can wear a different look for different occasions. You can mix few different piercings jewelries at once!
6 Colors Fake Nose Ring Clip
C Shaped Fake Nose Ring Hoop
Fake Nose Ring Hoop -Piercing Body Stainless-Steel Jewelry
8mm Surgical Steel Open Fake Nose Ring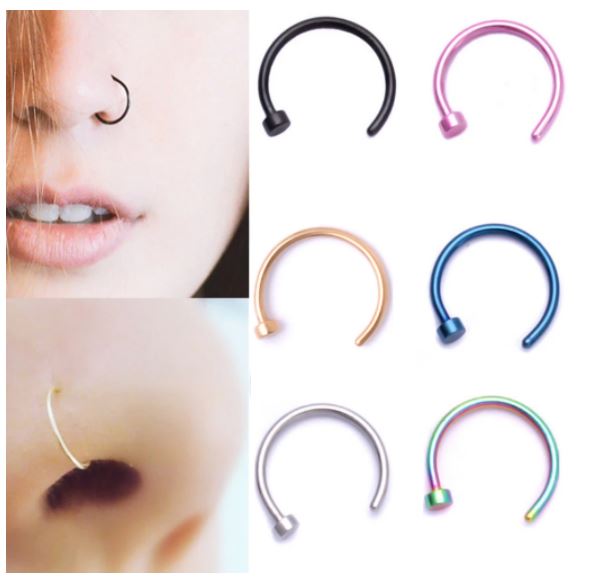 2Pcs Fake Clip On 8mm Surgical Steel Open Nose Ring C Clip Lip Ring Thin Small Hoop Nose Piercing Studs Ring For Women Girls
2Pcs Fake Clip On 8mm Surgical Steel Open Nose Ring C Clip Lip Ring Thin Small Hoop Nose Piercing Studs Ring For Women Girls
Source: Claires
DESCRIPTION
No piercing needed! Get the look of a real nose ring with a heart shaped embellishment attached to the end of the hoop.
Faux nose ring
Finish: Silver-tone
Closure: Adjustable cuff
Material: Metal
Style Number: 58756
Fake nose ring. Stick on type
Stick-On Anywhere Jumbo Pack - Nose, Monroe, Ear

Source: https://bodyjewelryfactory.com
References;
2) https://bodyjewelryfactory.com
To the top of this fake nose ring page.
Sponsored Pages
Subscribe to our nose-piercings newsletter to stay up-to-date with the latest news, trends and articles published on this site.