Birthstones 
In 1912, in an effort to standardize birthstones, the (American) National Association of Jewelers (now called Jewelers of America) met in Kansas and officially adopted a list. The Jewelry Industry Council of America updated the list in 1952 by adding Alexandrite for June, citrine for November and pink tourmaline for October. They also replaced December's lapis with zircon and switched the primary/alternative gems for March. The American Gem Trade Association added tanzanite as a December birthstone in 2002. In 2016, the American Gem Trade Association and Jewelers of America added spinel as an additional birthstone for August. Britain's National Association of Goldsmiths created their own standardized list of birthstones in 1937.
January – Garnet: Provides Strength & Safety
February – Amethyst: Protects & Purifies
March – Aquamarine: Calms & Cleanses
April – Diamond: Increases strength & purity/ White Topaz: Associated with Love & Happiness
May – Emerald: Represents health & wisdom/ Green Onyx: Relieves Worries, Tensions and Fears
June – Pearl: Associated with Purity & Innocence
July – Ruby: Symbolizes harmony and protection / Red Onyx: Increases Energy and Enthusiasm
August – Peridot: Attracts Abundance and Good Luck
September – Blue Sapphire: Represents purity, wisdom & faith/ Rainbow Moonstone: Provides Balance & Harmony
October – Opal: represents hope and innocence/ Pink Tourmaline: Cleanses Emotional Depression & Anxieties
November – Citrine: Raises self esteem & self confidence/ Yellow Topaz: Promotes Good Health
December – Turquoise: brings happiness & good fortune/ Blue Topaz: Brings Eternal Friendship and Romance
Birthstones: Eastern Traditions
Eastern cultures recognize a similar range of gemstones associated with birth, though rather than associating a gem with a birth month, gemstones are associated with celestial bodies, and astrology is employed to determine the gemstones most closely associated with and beneficial to a particular individual. For example, in Hinduism there are nine gemstones associated with the Navagraha (celestial forces including the planets, the sun, and the moon), known in Sanskrit as Navaratna (nine gems). At birth, an astrological chart is calculated, and certain stones are recommended to be worn on the body to ward off potential problems based on the place of these forces in the sky at the exact place and time of birth.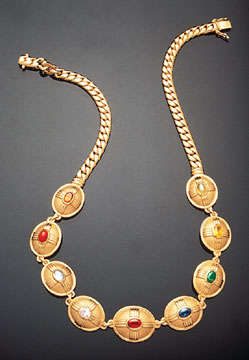 Sponsored Pages
Subscribe to our nose-piercings newsletter to stay up-to-date with the latest news, trends and articles published on this site.