Jenis Menusuk Hidung & Panduan Perhiasan Hidung
Jenis Mencucuk Hidung
Memakai cincin hidung adalah sesuatu yang memerukan keberanian untuk menampilkan gaya comel anda. Sama ada anda memilih untuk menusuk lubang hidung atau septum anda (bahagian kecil yang memisahkan lubang hidung anda), pastikan ia kelihatan sangat comel dan bergaya dengan memilih jenis menindik yangtepat.
Berikut adalah panduan berguna untuk beberapa soalan yang sering ditanya mengenai tindikan hidung.
Perhiasan starter yang paling biasa digunakan untuk menusuk lubang hidung adalah kancing hidung yang terbuat dari logam berkualiti tinggi seperti emas 14k, emas 18k, atau titanium. Gelung seperti cincin manik tawanan atau cincin lancar emas juga sering digunakan. Sekiranya anda memilih untuk menggunakan jongkong hidung, yang mempunyai bola kecil di hujungnya lebih baik; namun, batu permata serong atau bezel kecil boleh bergaya. Pastikan perhiasan permulaan anda cukup besar untuk menampung pembengkakan dan cahaya yang cukup sehingga tidak menarik pada tindikan baru anda.
Ukuran standard untuk menindik hidung ialah 18G atau 20G, namun, tindik anda akan menusuk dengan jarum yang lebih besar (hingga 16G) untuk membolehkan penyembuhan lebih baik. Jangan sekali-kali menggunakan cincin hidung yang lebih kecil daripada yang disarankan oleh penindik anda, kerana terdapat lebih banyak risiko penolakan, robek, dan migrasi.
Ketahui lebih lanjut mengenai ukuran tolok standard di sini.
Panjang perhiasan kancing hidung putar adalah 1/4 inci. Ini menampung pembengkakan dan ruang menindik dapat dibersihkan dengan mudah.
Sekiranya anda dicucuk dengan CBR, gelung, atau barbel bulat, ukurannya mesti berukuran 5/16 inci atau 3/8 inci.
Ketahui lebih lanjut mengenai panjang perhiasan badan standard di sini.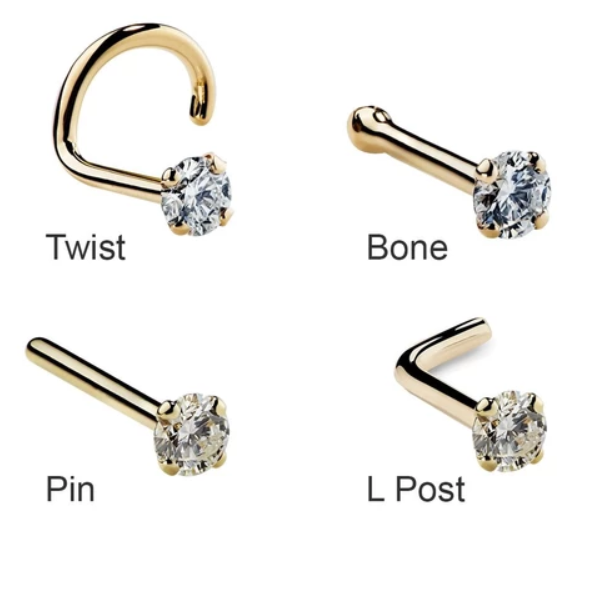 Penempatan: Penusuk anda akan menandakan lokasi tindikan sehingga anda dapat melihat apakah anda berpuas hati dengan penempatan tersebut. Setelah anda bersetuju, sudah tiba masanya untuk menindik.
Tusukan anda sembuh. Bagaimana sekarang?
Anda mengikuti semua nasihat dan anda betul-betul sembuh. Sekarang untuk bahagian yang menyeronokkan: membeli perhiasan untuk menghiasi tindikan hebat anda!
Ingat ketika kita bercakap mengenai saiz perhiasan badan? Ia masih penting. Anda ingin mencari perhiasan cincin hidung 20G dan 18G dengan panjang boleh pakai 1/4-inci.
Pertimbangan kos: Semasa membeli cincin hidung, perlu dilaburkan dalam cincin hidung emas atau platinum 14k berkualiti tinggi. Terdapat begitu banyak gaya untuk dipilih yang cukup berpatutan. Kegemaran adalah cincin hidung berlian asli atau kancing batu lahir asli. Jangan berfikir bahawa cincin berlian dan hidung emas berada di luar julat harga anda; mereka bermula sekitar $ 25.00 dan naik dari sana.
Penting: Ada yang tergoda untuk menghiasi lubang hidung mereka dengan anting-anting biasa. Jangan buat ini. Anting-anting standard biasanya 22G, dan boleh menyebabkan tindik berpindah dan sembuh dengan tidak betul. Panjangnya terlalu panjang, yang boleh merosakkan tulang rawan dan menggaru tisu hidung yang halus.
Gaya perhiasan menusuk lubang hidung
Screw Twist Nose Rings Twist: Cincin hidung jenis ini tetap berada di hidung dengan selamat sambil memberikan kelenturan pada lubang hidung. Ini adalah jenis cincin hidung yang paling biasa kerana sebab-sebab itu. Terdapat pelbagai gaya yang tersedia, yang bermaksud bahawa ada sesuatu untuk semua orang.
Tulang Hidung Tulang Tulang Hidung: Tulang hidung terdiri daripada tiang dengan hiasan di satu sisi dan bola kecil yang berdiameter sedikit lebih besar daripada tiang di sisi lain. Apabila dipakai, bola kecil menyimpannya di tempatnya. Seperti kancing hidung yang bengkok, mereka mempunyai flush fit. Ini adalah yang terbaik untuk tindikan yang disembuhkan. Walaupun tidak untuk semua orang, tulang hidung mempunyai basis penggemar setia yang bersumpah dengan penampilan dan keselesaan.
Pin Post Nose Rings Pin: Ini hanyalah tiang lurus, tetapi gaya jongkong hidung ini tidak boleh dipakai sebagaimana mestinya; penindas harus membengkokkan kancing hidung pin anda ke bentuk L. Ini sangat sesuai untuk mereka yang tidak sesuai dengan panjang barbel biasa.
L-Shape Nose Rings L-Shape: Cincin hidung berbentuk L mempunyai tiang yang dibengkokkan pada sudut 90 darjah. Ini juga merupakan penyokong cincin hidung kegemaran bagi mereka yang merasa sentuhan skru sukar digunakan kerana L-Shape lebih mudah dimasukkan ke dalam tindik daripada skru dan lebih selamat daripada tulang hidung.
Hoop Nose Rings Hoop Nose Rings: Gelang cincin hidung dengan cepat menjadi perhiasan pilihan hidung. Mereka memberikan penampilan yang berbeza daripada cincin hidung pejantan dan cenderung lebih kelihatan. Cincin manik tangkap mudah disisipkan, dan manik itu boleh dihiasi untuk mendapatkan bakat tambahan. Anda juga boleh memilih gelung palsu, seperti yang ditunjukkan, untuk estetik gelung dalam format yang mudah dimasukkan.
Ring Ring Hoop Nose Seamless Ring Ring Hoop Nose Ring: Tidak seperti gelung pada gambar di atas, cincin lancar membungkus lubang hidung. Ketebalan gelung akan bergantung pada ukuran tindikan anda; tolok yang lebih besar akan dibuat untuk penampilan gelung yang lebih berani. Jangan sekali-kali menarik hujungnya dengan cincin yang lancar. Sebaliknya, putar ke atas dan ke bawah ke arah yang bertentangan untuk membuka, kemudian putar kembali ke tempatnya.
Faux Hoop Nose Ring dengan sokongan L-Shape Faux Hoop Nose Rings: Gaya cincin hidung ini memberi anda rupa gelung dengan penyisipan dan keselesaan yang mudah dari bentuk L-sokongan.
Ketahui lebih lanjut
Sponsored Pages
Subscribe to our nose-piercings newsletter to stay up-to-date with the latest news, trends and articles published on this site.