Septum Piercing - What You Must Know
You're ready to consider a septum piercing if you're seeking something that's a little more daring than just a gem adorning the nostril.
Also known as bull rings, many people think septum piercings are much more dramatic and daring. People choose them to express either cultural traditions or their own individuality. Getting one is a little more uncomfortable and they take a bit longer to heal.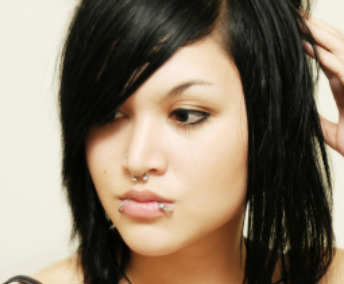 Your nasal septum is the cartilage that divides your nostrils, a stiff but flexible piece of tissue that does not contain any blood vessels. The actual piercing spot, however, is a very thin partition of skin just inside your nostrils where the bottom of the nose meets the top of the lip.
Since the needle won't actually go through the septum -if you're using an experienced piercer- there will be a tiny bit of blood but there will be very little pain.
The optimal needle gauge, by the way, will be 14 or 16mm-the larger the number, the smaller the gauge. Some people like to stretch their piercing, but you should never do this until it heals. It's unwise to stretch it larger than 8mm.
Let's talk about that experienced piercer: Just how do you find one? You can check out piercing studios or boutiques in your area or even visit a tattoo parlor. Ask the piercing expert to show you a portfolio of his or her work. He should also be willing to answer your questions about hygiene and procedure. If the piercer doesn't share your concern about hygiene, then run!
And he should never make you feel like an inexperienced baby just because you have a lot of questions. He should be patiently willing to answer everything you can think of.
You should be aware that many septum piercings are slightly uneven because the texture of the cartilage -or, more accurately, the skin beneath it -makes it difficult to achieve perfect alignment.
In most cases this misalignment is so slight that nobody will ever notice. But if your piercer is inexperienced, he might angle the needle too steeply on one side and you will end up with a crooked piercing.
Do nose piercings hurt? In a word, yes, but just briefly! Some people say that the septum piercing hurts less than piercing any other part of your nose.
Mostly that's because the partition of skin to be pierced is so slender that the needle goes through in an instant. But there is some discomfort, because the nose and sinus areas have a high concentration of nerve endings.
You won't feel any nasty crunching when your septum is pierced, but you can expect it to sting. Your eyes will water in sympathy. The first day or two afterward, the lining of your nostrils and sinuses will be irritated and you might sneeze a lot, which can be both annoying and uncomfortable.
Expect healing to take at least six weeks. Use cotton balls or a swab stick with a warm sea salt water solution to cleanse your piercing. At times you will want to soak a cotton ball in the warm solution and just hold it against the piercing to relieve irritated tissues.
Gold is the best metal to choose when you're deciding on septum jewelry. Silver will permanently stain your skin, and other less pure metals can irritate sensitive tissues. 14k, 18k, or 22k jewelry allows for maximum comfort and healing. Choose from one of these jewelry types:
The circular barbell is a tiny rod curved into an arc. Decorative beads screw onto the ends. You can flip the beads up into your nostrils when you don't want your piercing to show.


Septum rings can be plain or decorated with a bead or jewel.


The captive bead ring is one of the ring styles, but the bead is held in place by the ends of the circle placing tension on the bead. You can slide the ring around through the piercing, but the bead itself will stay where it's being held in place.


Septum tusks are straight pieces of metal, with the ends usually tapered.
Just as it is important to choose a piercer with care, you must likewise be selective in your choice of jewelry. There is no metal that will feel more natural or promote better healing than gold.
We utilize experienced goldsmiths who craft beautiful, quality jewelry, and we specialize in unusual Indian designs that you will not find elsewhere in the Western markets.
22kt Gold Captive Bead Ring - $35.90 (SOLD OUT!)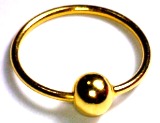 Solid 22KT Gold Nose Jewelry. Genuine 916 solid gold captive bead ring for the perfect nose jewelry. Specifications: Diameter 14mm with fixed 4mm ball, 91.6% Pure Gold, Made in Malaysia. Handmade and hand polished by our highly skilled Indian goldsmiths. Gold septum Piercings / Captive Bead, specially hand made for western users. First of its kind!
22kt Gold Septum Ring - $36.90 (SOLD OUT!)
Solid 22KT Gold Septum Ring. Genuine 916 solid gold septum ring for the perfect nose jewelry. Specifications:Diameter 12mm with 4mm rolling ball, 91.6% Pure Gold, Made in Malaysia. Handmade and hand polished by our highly skilled Indian goldsmiths. 22 carat Solid Gold septum Piercings, specially hand made for western users. First of its kind!


Have A Great Story About This Topic?
Do you have a great story about this? Share it!
What Other Visitors Have Said
Click below to see contributions from other visitors to this page...

my septum piercing

I got a perfect shape nose and its empty so my husband arranged nose stud on both sides and septum ring also with drops it looks sexy for my face he gave …
my nose pendant

I have narrated this story before. My boss commented on my beautiful long nose and since then I have developed a love for nose rings. He himself …
Septum

I heard that if you get your septum pierced it can possibly alter the way your nose sets/looks. is that true?
Septum piercing through cartilage? is it ok?

i went to go get my septum pierced, before hand i had known that it is suppose to be nearly close to painless and on the soft tissue part, im more then …
I need help now! septum ring

How old do you have to be to get a septum piercing in California with parent permission?
optimal needle gauge sizes

Hi, I would like to offer a correction for the information the septum piercing page, linked below. In the section where you discuss the optimal needle …
Septum Piercing Panic

I have a question: I got my septum piercing about a week or two ago, and it's not really sore unless i smack it (obviously because it is a new piercing), …
How my boss helped me understand my beautiful nose Not rated yet
One day my boss, who is quite friendly and candid and happy-go-lucky commented that I have got a beautiful symmetric nose. I do have a long nose but his …
Septum piercing Not rated yet
I've been thinking about getting a septum piercing but I'm kinda scared. Will it itch when they stick the needle in? Will you sneeze alot? does it hurt?! …
septum piercing Not rated yet
When I got my septum pierced I got a weird rash around my nose. Not a rash with bumps, it looked more like really dry skin on the sides of my nostrils. …
Septum Not rated yet
I got my septum pierced 3 days ago and I usually just hide e it in my nose but when I do take it out it does not stay in place it goes back a little bit …
Septum piercings Not rated yet
How long does it take for a septum piercing to heal? Answer: Expect healing to take at least six weeks. Use cotton balls or a swab stick with a warm …
Septum Piercing Question Not rated yet
I got my septum pierced 2 days ago and I didn't go to my usual piercer and the person I went to made it crooked, would it be best to take it out or get …
septums Not rated yet
how to clean your septum ??
nose septum piercing Not rated yet
what will happen if the septum piercing's ball went into my nose?
my septum Not rated yet
i just lost my nose piercing and i cant find it will my septum close ? ive been having my nose piercing for at least a whole month and week .
septum ring. Not rated yet
i had gotten my septum pierced 3 months ago, i've been dying to change it. the balls wont unscrew, any idea of what i can do?
SEPTUM PIERCING Not rated yet
Hi I'm from TamilNadu But living in kolkata from born and became bengali, I wish to pierce my septum but Ihave not How iwill be look, I have seen so many …
About gold... Not rated yet
It is not true that gold is the best metal for healing. Surgical or stainless steel is the best. Surgical steel is an obvious choice because it is made …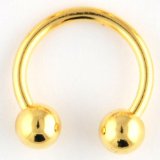 To the top of this article about Septum Piercing