Pictures of Nose Piercings
Looking for pictures of nose piercings? Arriving at the decision to pierce your nose is a big deal! It's exciting to look at pictures on the internet at other people's nose piercings in order to get an idea of just what you want to do. But there's a lot to think about.
There are different types of piercings... various types of nose jewelry... worries about pain and infection... and these are the things you consider once you've already convinced your family or social support network that a piercing is right for you!
Pictures of Nose Piercings are Available
No doubt you have gone to Google or Yahoo! or Bing (or whatever) to look at images of piercings. What style looks right for you? How do you know whether a nose ring that looks great on one person will properly accentuate your features?
It's true that the internet is a wide-open resource for viewing examples of nose piercings. You can also look at photos in our nose piercings gallery or the online store of this web site to view many examples of beautiful nose piercing jewelry. We've got some key points for you to keep in mind while you ponder all those pictures and make your final decision:
Since you seen enough pictures of nose piercings and you have finally decided on this procedure, the first thing to choose is the metal your initial nose jewelry will be made from. Some metals elicit an unpleasant reaction from the skin. Doctors refer to these general skin allergies as contact dermatitis.
More people are sensitive to nickel than to any other metal, and cobalt comes in second. These two metals are used as fillers for many other metals, including copper, brass, sterling silver, and even gold. Only poison ivy causes more allergic reactions than metals!
Why is this important? Imagen this while you're looking at all those pictures of nose piercings: Imagine red splotches leading out from your piercing jewelry. Imagine itchy bumps that you scratch, which then get red and even begin to ooze.
Your skin can even develop redness if the metal sits too close to the skin, trapping liquids or soap residue from washing your face or even from your natural sweat. Remember that even though the opening in your skin from the piercing is minuscule, it still puts your raw skin in contact with the metal.
Go For Pure Gold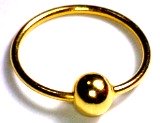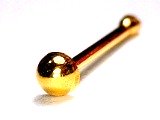 You can avoid that skin irritation that show up on many pictures of nose piercings by choose a quality, pure metal such as 22k gold for your initial piercing. It's even better than 14k or 18k, because the purer the gold, the less nickel it contains, and you are less likely to develop a raging allergic reaction! You should ask your piercing professional if he is using a surgical steel needle to do the job, because people have even developed reactions to the piercing equipment.
While you browse through pictures, take a look at keloid scars associated with piercing. You will become motivated to do whatever it takes to avoid them! Keloids are scars that grow beyond the boundaries of the initial wound (in this case, from the piercing). People who develop them complain of a painful burning sensation-not to mention the unsightly scar.
Keloids do tend to run in families, so give a second thought to nose piercing if people in your family have developed them. And they are also more common among darker-skinned people. But you can increase your chances for better healing if you eat plenty of collagen-rich foods, such as soy products or dark green leafy vegetables. Tomatoes and red peppers contain collagen-boosting lycopenes. You can also eat salmon, tuna, and nuts-foods that are rich in omega acids. Olives (black or green), cucumbers, and celery will also help.
Professional Piercing is Better
Besides looking at more pictures of nose piercings and thinking of keloid problems, you can avoid simple scars if you have your piercing done properly. Never let someone pierce your nose with a gun! You cannot avoid that minuscule splash of blood that hits your skin when the gun shoots that stud through, and you don't want germs from the last gazillion people who were pierced to get into your open skin. Plus, think about the shooting action of the gun, ripping your skin to make way for the stud and then pressing it in tightly so that there is no breathing room. Does that sound like something that will heal quickly and cleanly?
We display pictures of nose piercings in our store that will help you choose beautiful, high quality nose jewelry. We are proud to advocate the 22k gold selections for optimal healing, comfort, and appearance. You'll have fun selecting just the right size ring or stud to match your nose. But above all else, we want you to make safe choices that will look great during and after the healing period.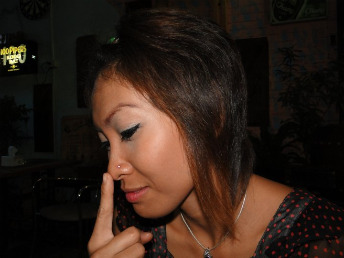 And that's a picture you'll want to show everyone!
More Nose Piercing Pic.............
Have A Great Nose Piercing Picture?
Do you have a great nose piercing picture? Share it!
What Other Visitors Have Said
Click below to see contributions from other visitors to this page...

Nose Piercing.

Well, I decided that I wanted my nose pierced around 15 and after years of bugging my dad he finally caved for my 17th birthday. I was so excited and honestly …
love to pierce your nose

all women should love to pierce their nose because most men likes nose stud on girls so u can make any guy to like u. all in your nose so dont say no …
My Successful Home Piercing!!!! :D

Hm, well ive wanted my nose pierced ever since i made a friend who convinced me i should get one. I convinced my parents to let me get the piercing but …
I LOVE TO PIERCE EVERYBODIES NOSE

i feel piercing beautiful girls nose if any one want,s it i love to pierce every ones nose
nose srews

i pierced my double side nose i use to wear studs in night and in the morning i replace a stick being a guy i cant go out with studs iam doing this for …
I Finally Got My Nose Pierced!

For about 2 years I have been wanting to get my nose pierced and my parents finally said yes. I just got it done and am already getting compliments on …
nose piereced by grandma Not rated yet
iam cute tamil girl of 13 one day my grand ma came to my home to stay for 7days withus my mom told her to pierce my nose i said iam only 13 why so hurry …
Kitty Kubacki Nose Ring Not rated yet
I looooved my nose ring! I think I am going to get it repierced in the near future. I also wouldn't mind wearing it with a stud for my upcoming wedding. …
i pierced my nose at home! :) Not rated yet
well, basically all I did was go to walmart and get a regular sewing needle, a ball end stud, 22 gauge and I adjusted the needle to the stud. I sterilized …
lindsey nose ring Not rated yet
lindsey nose ring
Got it done finally! Not rated yet
I have wanted to get my nose pierced FOREVER... My parents said it was okay, but I had a lot of trouble finding a place that would do it when I was 13. …
Home Piercings . Not rated yet
Alright so i was at my friend lystra's and i was like can you pierce my lip she was like yeah well we got some sewing needle's and we sat down next to …
nose ring picture Not rated yet
lol :) it hert a little bit
Nose Jewelry Not rated yet
I love my nose piercing!
piercings photos Not rated yet
Hi there! I am 16 and planning to pierce my nose.......before choosing my jewelry I want to she photos of different type nose piercings...please help me …
pictures of piercings Not rated yet
more pictures of piercings please!
To the top of Pictures of Nose Piercings